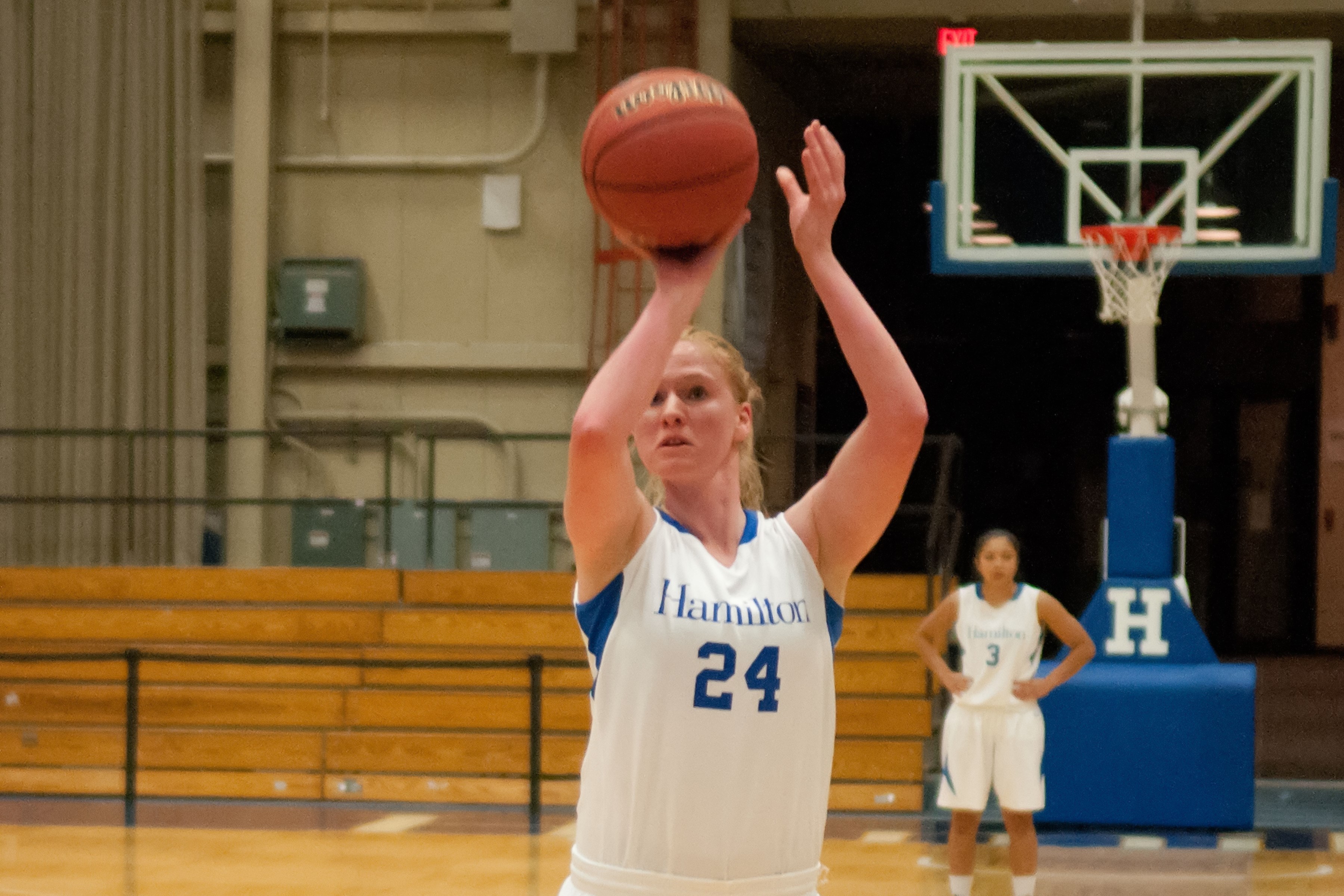 Middlebury College's Sarah Kaufman '18 scored 15 points and grabbed 10 rebounds, and the Panthers held on for a 60-59 NESCAC win against the Hamilton College Continentals at Hamilton's Margaret Bundy Scott Field House on Sunday afternoon.

Box Score

Middlebury (11-9, 3-3 NESCAC) ended a four-game losing skid with the one-point win. The Panthers made all nine of their free throws and were 7 of 13 from 3-point range.

The Continentals (10-9, 1-5) had won 10 of the last 12 games in the series against Middlebury prior to today. Hamilton was 9 of 29 from beyond the arc for 31 percent.

Elizabeth Knox '17, who leads the Panthers with more than 13 points per game, dropped in 16. Rachel Crews '15 chipped in 11 and Alexis Coolidge had eight.

Lauren Getman '18 tied a season high with 16 points and added 10 boards for her second double-double with the Continentals. Theresa Salud '17 tied a career-best with 13 points and Caroline Barrett '17 recorded eight points and a game-high five assists.

Hamilton's Sam Graber '16 posted her 10th double-double this season and the 17th of her collegiate career with 12 points and 12 rebounds. Graber leads the NESCAC in scoring with 17.6 points per game and is third with 9.8 rebounds per game. She also leads the conference with those 10 double-doubles.

A 3-pointer by Barrett gave the Continentals their last lead at 50-49 with 3:40 left. A driving layup by Coolidge put Middlebury ahead to stay with 3:16 remaining.

Crews drained a trifecta that made it 54-50 but Salud got those points right back with her own basket from beyond the arc with 2:07 to go. Sabrina Weeks '18 made a shot in the paint for the Panthers and after Hamilton missed a 3-pointer, two free throws by Krystina Reynolds '17 gave Middlebury a 58-53 advantage with 1:12 left.

After the Continentals' third offensive rebound on their next possession, Getman made a basket that made it 58-55 with 46 seconds remaining. Graber stole the inbounds pass and fed Salud for a layup that pulled Hamilton within one. Reynolds was fouled with 26.9 seconds to go, made both free throws again and restored the Panthers three-point lead.

On the Continentals' last possession, Getman missed a jumper but Graber pulled down the offensive rebound and Hamilton called a 30-second timeout with 11 seconds left. The Continentals missed two 3-point shots in the last seconds before Graber's rebound and putback for the final margin just as the buzzer sounded.

In the first half, Hamilton led once at 10-9 on a layup by Getman midway through the period. The Continentals trailed by just three points at 21-18 with 3:06 remaining but Middlebury ended the half with a 12-4 run and enjoyed a 33-22 cushion at the break.

A 3-pointer by Knox out of the locker room gave the Panthers their largest lead of the afternoon at 14 points. Hamilton responded with a 14-2 run that was capped by a Samantha Srinivasan '18 basket from beyond the arc and brought the Continentals within 38-36 midway with 11:07 to go.

Neither team led by more than five points the rest of the way, and a Getman 3-pointer gave Hamilton a 47-45 edge with 6:42 left -- the Continentals' first lead since it was 10-9.

Both teams finished with 39 rebounds and they combined to commit just 21 turnovers. Hamilton shot 38.3 percent and Middlebury shot 36.1 percent.

The Continentals host nationally ranked No. 4 Tufts University for another NESCAC game on Friday, Feb. 6. The Panthers return home to face Colby College in conference action on Friday night at 7.