Women's basketball drops league game
---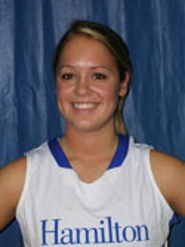 Lauren Pluchino '11 scored a game-high 21 points and was 4 of 6 from 3-point distance to lead Clarkson University to a 48-42 victory against Hamilton College in a Liberty League game at Hamilton's Margaret Bundy Scott Field House on Jan. 28.

The Golden Knights (4-12 overall, 1-5 Liberty) snapped a 10-game losing skid. Hamilton (5-8, 0-6) has lost eight straight after opening the season with five wins in a row.

Both teams were cold from the field at the start, and Eliza Howe '13 finally gave Hamilton a 1-0 lead 3 minutes, 17 seconds into the first half when she hit the second of two free throws. Clarkson quickly took the lead with a jumper by Sierra Noles '11.

The Continentals led twice in the second half at 5-4 and 7-6. Clarkson scored the next nine points for a 15-7 advantage, and held on for a 24-20 lead at the half.

Hamilton came back to tie the score twice in the opening three minutes of the second half at 26-26 and 28-28. The Golden Knights pulled away with eight straight points for a 36-28 lead with 13:43 left.

Hamilton came within 36-32 after two free throws by Claire Hunsinger '13 with 12:21 remaining, but the Continentals went more than eight minutes without scoring a point, and fell behind by eight again. Clarkson's largest lead down the stretch was 10 points at 48-38 with 1:14 left.

Hamilton was led by Howe, who tallied a team-high 14 points and made three 3-pointers. Madie Harlem '13 had 13 points, four assists and three steals. Kim Goidell '13 added nine points. Blue Sanders '13 and Harlem grabbed a team-high seven rebounds apiece.

Sierra Noles '11 and Chrissy Scanlon '12 pulled down a game-high eight rebounds for the Golden Knights. Scanlon chipped in 10 points and Noles added eight. Pluchino had seven rebounds and was 7 of 10 from the field.

Clarkson shot 36 percent from the field, including 6 of 20 from 3-point range. Hamilton shot 30 percent from the floor, including 5 of 15 from behind the arc.

The Continentals host St. Lawrence University for another league game on Saturday, Jan. 29, at 2 p.m.