Women's basketball drops NESCAC game at Trinity
---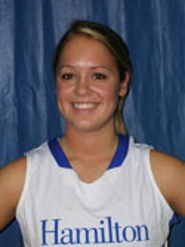 Kaitlin Ciarleglio scored 18 points to lead Trinity College to a 67-42 win against Hamilton College in a NESCAC game at Trinity's Ogrodnik Court at Oosting Gymnasium on Jan. 15.

Ciarleglio also handed out four assists. Moriah Sweeney came off the bench to score 10 points and make four steals, and Carly Napier chipped in 10 points and three steals before she fouled out. The Bantams helped force 19 Hamilton turnovers by coming up with 12 steals. Heather Lyhne led all players with seven rebounds.

The Continentals' bench accounted for 26 of their 42 points, led by Eliza Howe '13 and Dani Feigin '14 with 10 and nine, respectively. Olivia Pimm '14 added seven points, Claire Hunsinger '13 grabbed six boards and Kim Goidell '13 handed out four assists.

Trinity (6-7 overall, 1-2 NESCAC) snapped a three-game losing streak as it led the entire afternoon. Hamilton (5-9, 0-4) suffered its fifth setback in a row.

The Bantams jumped out to an early 12-2 advantage. Napier drained a 3-pointer less than a minute in, and back-to-back long balls by Ciarleglio and Abby Hancock gave Trinity a 9-2 lead less than four minutes into the contest. Ciarleglio followed with a conventional 3-point play for the early 10-point lead. The Bantams led 36-23 at the break thanks to 12 points by Ciarleglio.

Trinity's lead grew to as many as 27 points in the second half. The 25-point margin of victory was the largest for the Bantams this season, as they held the Continentals to 31 percent field goal shooting (13-42).

Hamilton returns home to face SUNY Potsdam in non-conference action on Tuesday, Jan. 17.