Women's basketball drops NESCAC game at Trinity
---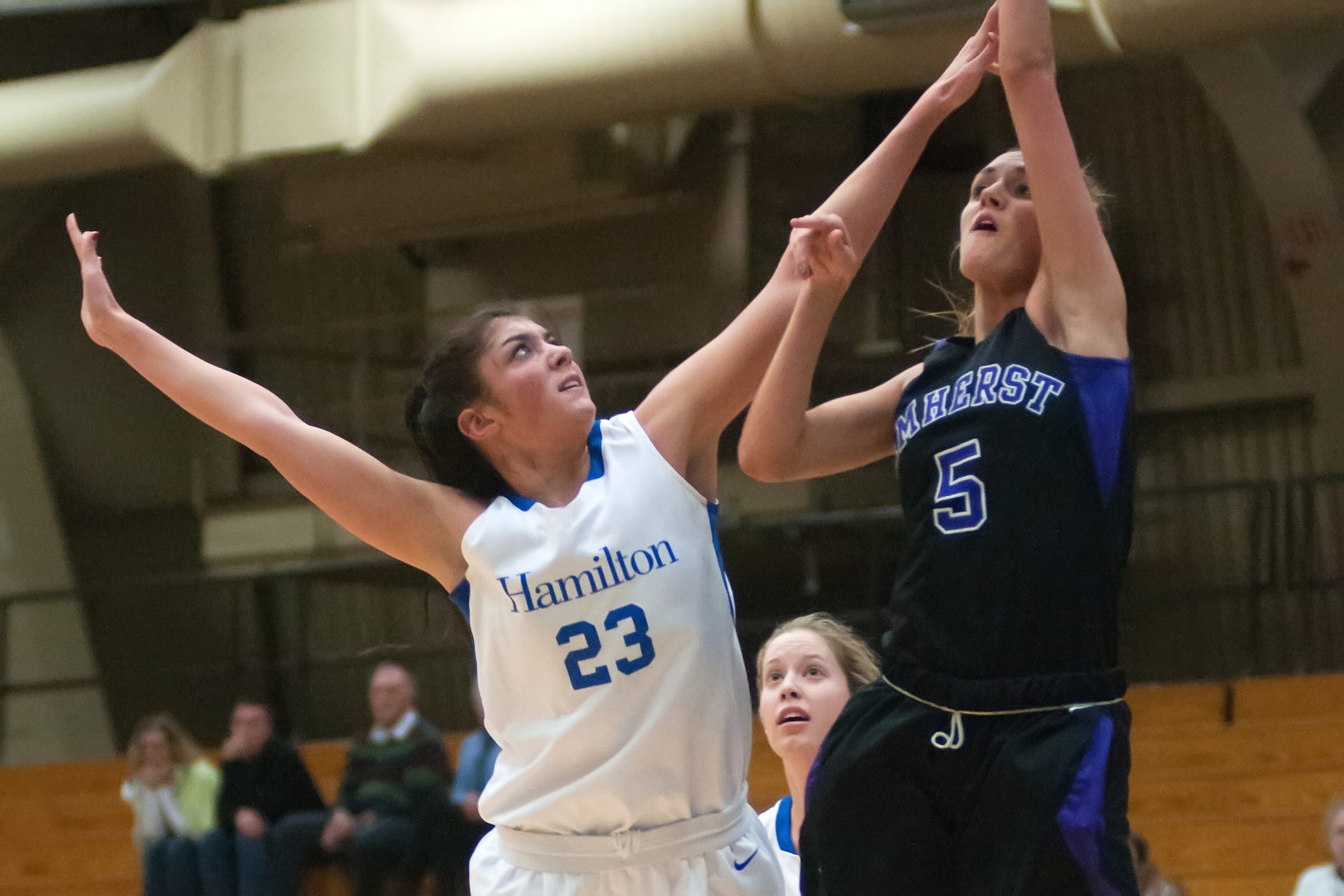 Trinity College's Hannah Brickley posted a double-double with 14 points and 14 rebounds, and the Bantams defeated the Hamilton College Continentals 55-41 in a NESCAC game at Trinity's Oosting Gymnasium on Jan. 11.

Box Score

The Bantams (8-5, 2-0 NESCAC) won their fourth straight game and never trailed. The score was tied twice early in the first half at 5-5 and again at 7-7. Trinity shot just 26.7 percent (16-60) from the field, including 1 of 12 from 3-point range, but held a 47-35 advantage in rebounds and committed just six turnovers.

Brickley also had three of the Bantams' seven steals. Mackenzie Griffin dropped in 14 points, Abigail Hancock added nine and Shantel Hanniford chipped in eight off the bench. Alexa Menard was credited with four assists.

Samantha Graber '16 scored a game-high 16 points for Hamilton (6-7, 0-2). Dani Feigin '14 finished with 13 points and four assists. Olivia Pimm '14 grabbed eight boards and is ranked third in the conference with 8.3 per game. The Continentals shot 26.5 percent (13-49) from the floor and was 4 of 19 from beyond the arc.

Trinity's largest lead in the first half was eight points, which the Bantams held twice. Two Emily Dixon free throws made it 30-22 with 1:40 left, and a Hanniford layup just before the end of the half gave Trinity a 32-24 advantage at the break. The Bantams were 15-for-17 at the free-throw line in the first 20 minutes and ended up shooting 78.6 percent (22-28) at the charity stripe for the game.

A basket by Feigin pulled Hamilton within four points at 32-28 early in the second half, but the Continentals couldn't get any closer. A three-point play by Hanniford gave the Bantams their first double-digit lead of the afternoon at 44-33 with 9:23 to go. Trinity led by at least 10 points the rest of the way.

Hamilton returns home to take on Colby College for another NESCAC game on Friday, Jan. 17, at 6 p.m.