Women's basketball drops NESCAC game to Conn. College
---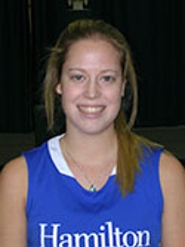 Connecticut College's Tara Gabelman '14 tied a season high with 23 points and lifted the Camels to a 51-46 NESCAC victory over Hamilton College at Hamilton's Margaret Bundy Scott Field House on Feb. 1.

The Camels (8-12 overall, 3-5 NESCAC) have won two straight against the Continentals and own a 3-2 advantage in the all-time series.

Gabelman grabbed nine rebounds, tallied three steals and went 9-for-10 at the free-throw line. Aly Boyle '14 added nine points and Carlee Smith '15 handed out four assists. Caitlin Cimino '14 pulled down eight boards.

Madie Harlem '13 recorded her second straight double-double with 15 points and 10 rebounds. Harlem also passed out four assists and hit two 3-pointers. She has made 108 shots in her career from beyond the arc, which puts her in a tie for fifth place in program history.

Eliza Howe '13 contributed 12 points and Olivia Pimm '14 hauled in a career-best 13 rebounds, including five on the offensive glass, for Hamilton. Rachel Fredey '15 was credited with three assists.

Hamilton (10-10, 1-6) took a 5-1 lead after a Dani Feigin '14 3-pointer. After that basket, neither team led by more than three points until Howe hit a shot from long range that gave the Continentals a 20-16 lead with 1:49 to go in the half. Gabelman made two layups and tied the score at 20-20 at the break. She closed out the half with 10 points.

The Camels started the second half with a 10-2 run for a 30-22 lead on four free throws by Boyle and a pair of layups by Gabelman. The Continentals responded with a Harlem trifecta and a jumper by Adrianna Pulford '15 that made it 30-27. Three straight baskets by the Camels gave Conn. College its largest lead at 36-27.

The visitors were holding on to a 38-30 lead when Hamilton went on a 9-2 run that made it 40-39 with 5:13 left to play. Howe began the run with a layup, followed by a pair of free throws and a 3-pointer by Harlem, and a jumper by Samantha Graber '16. Conn. College's lead went back to five at 46-41 , but two more free throws by Harlem and a basket by Howe got the Continentals back to within one point at 46-45 with 1:38 remaining.

Gabelman made a layup on the next possession and Hamilton only got one back after Howe went 1-for-2 at the line with 63 seconds to go. The Continentals forced a turnover with 26 seconds left, but Howe missed a layup on the other end, and Gabelman grabbed the rebound and was fouled. Gabelman went 3-for-4 at the charity stripe in the last 13 seconds to clinch the victory.

Conn. College shot 33.3 percent (17-51) from the floor, but went 16-for-20 at the line. The Continentals managed to shoot just 24.2 percent (16-66), but kept the game close by making 6 of 18 shots from long range. Hamilton held a slight 42-38 advantage on the glass, including 14 offensive boards.

The Continentals play their last home game this season against Wesleyan University on Sunday, Feb. 3. The Camels return to the court for a non-conference home game against Nichols College on Monday, Feb. 4.