Women's basketball drops regular-season finale
---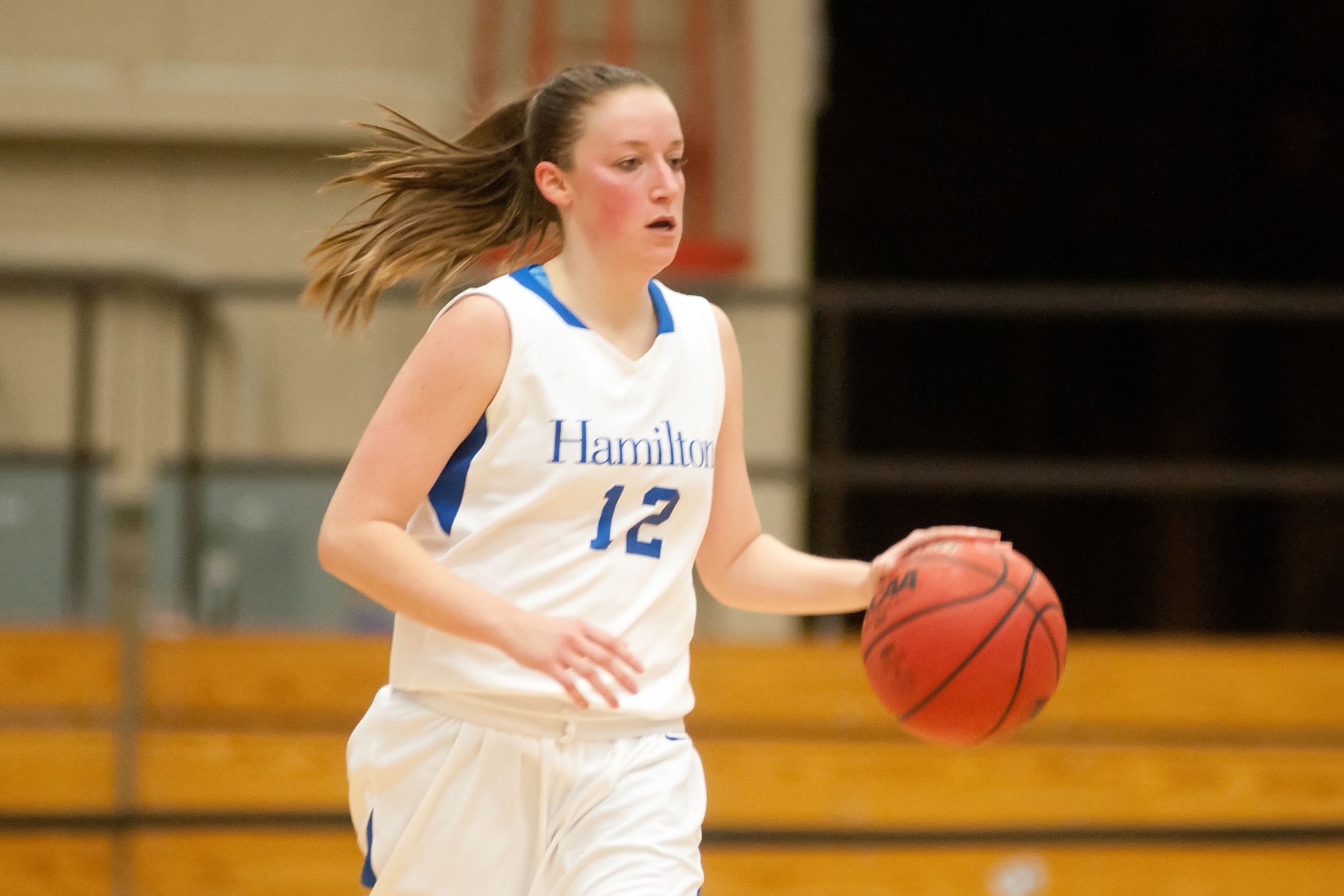 Connecticut College received 49 points from its bench and the Camels defeated the Hamilton College Continentals 67-54 in a NESCAC game at Conn. College's Luce Field House on Feb. 15.

Box Score

Hamilton (11-12, 4-6 NESCAC) finished the regular season in seventh place in the conference standings. The Continentals advance to the NESCAC championship for the first time since they joined the conference for basketball in 2011-12. Hamilton will play No. 2 seed Amherst College at Amherst in the quarterfinals on Saturday, Feb. 22.

The Camels (14-10, 6-4) tied for fifth place in the standings but earned the No. 5 seed thanks to Friday night's upset of nationally ranked No. 15 Williams College. Conn. College will play No. 4 seed Trinity College at Trinity on Saturday.

Tara Gabelman led the Camels with 12 points, 13 rebounds and four assists. Liz Malman and Willa McKinley dropped in 15 points apiece and Jenna Lovett added 13. All three came off the bench for Conn. College. Carlee Smith handed out six assists. The Camels held a 41-36 edge on the glass.

Dani Feigin '14 poured in a game-high 21 points for the Continentals. Feigin drained six 3-pointers and broke the program record with 66 from beyond the arc this season. She also leads the NESCAC with those 66 shots from long range.

Samantha Graber '16 chipped in 10 points and eight boards for Hamilton. Caroline Barrett '17 tied a season high with six assists and committed just two turnovers. The Continentals made 11 of 26 shots from 3-point range but made just 8 of 32 from inside the arc. Hamilton also went 5-for-12 at the free-throw line.

The Continentals led by five points early and still held a 20-17 advantage after Corinne Hom '16 made a jumper with 8:31 left in the first half. That's when Conn. College took the lead for good with a 14-0 run. Malman started the spurt with back-to-back 3-pointers and a basket by Lovett was sandwiched between two jumpers by McKinley. Gabelman's two free throws made it 31-20 with 3:18 left in the half.

A 9-2 Hamilton mini-run pulled the Continentals back within 33-29 but a 3-pointer by Kaitlyn Cresencia gave the Camels a 36-29 cushion at the break.

Hamilton didn't go away quietly in the second half. A Feigin 3-pointer with 12:35 remaining cut the Continentals deficit to one point at 40-39, and Hamilton was still within three points at 50-47 after Barrett made a layup with 8:33 to go.

Conn. College finally clinched it with a 9-0 run for a 59-47 advantage. Caitlin Cimino made a jumper and McKinley followed with a trifecta and a layup. Gabelman's basket from close range put the Camels up by 12 with 4:45 left. Conn. College managed to keep their lead in double digits the rest of the afternoon.