Women's basketball drops road game to Union
---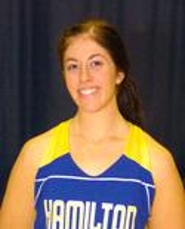 Union College defeated visiting Hamilton College 62-56 in a Liberty League game at Viniar Athletic Center on Jan. 15.

Blue Sanders '13 paced Hamilton (7-4 overall, 1-1 Liberty) with 12 points off the bench. Eliza Howe '13 added 11 points, while Madie Harlem '13 had 10 to go with eight rebounds and three steals. Reisa Asimovic '11 tied a career high with nine assists, and grabbed eight rebounds. The Continentals have dropped three of their last four games.
The first half featured six ties. Hamilton held its largest lead in the opening minute when Harlem scored the first five points. With 4 minutes, 39 seconds left in the half, Asimovic connected on a layup to put the Continentals up 22-21. Union (3-9, 1-1) closed out the half with a 9-2 run in the final 3:28 to go to the break up 32-24.
The Continentals were able to tie the game for the seventh time -- this time at 42 -- with 10:30 left on a 3-pointer by Alex Sowinski '10. Hamilton took the lead once in the second half at 47-46 after Harlem made a 3-pointer with 7:16 left. Union regained the lead for good with consecutive 3-pointers for a 52-47 advantage with 4:06 remaining.
The Continentals shot 37.5 percent from the floor and 31.3 percent (5-for-16) from behind the arc. The Dutchwomen held a 42-33 advantage in rebounds.
Hamilton travels to Skidmore College to play another league game on Saturday, Jan. 16, at 2 p.m.