Women's basketball edged by Emerson
---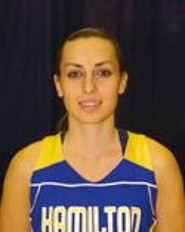 Hamilton College fell 71-69 to host Emerson College in the first round at the Emerson Tip-Off Tournament in the Brown-Plofker Gym on Nov. 20.
Emerson connected on three free throws with 1.4 seconds remaining to complete a rally from 21 points down. Hamilton had held the lead since the 16 minute, 56 second mark in the first half.
The Continentals were led in scoring by Reisa Asimovic '11 and Alex Sowinski '10, who recorded 19 points each. They both added three assists, and Sowinksi came up with three steals. Lisa Olszewski '11 led the team with seven rebounds.
Hamilton raced out to a 40-25 halftime lead as the Continentals held Emerson to 35 percent shooting and grabbed a 23-15 rebounding advantage. The bench did a major portion of the damage, outscoring the Lion reserves 13-1 in the stanza.
The Continentals continued their barrage early in the second half. A jump shot by Olszewski gave Hamilton a 51-30 lead with 15:20 remaining in the contest. An Emerson free throw was followed by a three-pointer to cut the margin to 17 points, and started a 10-0 run for the Lions. A layup by Sowinski temporarily stopped the Emerson rally, but they connected on pair of free throws and a layup to cut the margin to single digits with 9:18 left.
Hamilton ran the lead back to a dozen on a free throw by Eliza Howe '13 and a Asimovic layup. The Lions answered with two free throws and a three-pointer to cut the lead to 58-51 with 7:48 left.
Asimovic hit another layup, but Emerson countered with a traditional three-point play to move the Lions to within six at the 6:52 mark. Following a Howe free throw that gave the Continentals a 61-54 lead, the Lions hit a layup and drained two more free throws to make it a one possession game.
The teams then traded baskets until Emerson tied the game at 65 on two foul shots with 3:16 left. Sowinski banked in a three with 2:55 remaining. Three more Emerson free throws and one by Sowinski gave Hamilton a 69-68 lead, but Emerson connected on all three free throws after a Hamilton foul for the win.
Hamilton will play Suffolk in the tournament consolation game. Suffolk lost its opening round game to Montclair State University, 74-62. The game will begin at 1 p.m. on Saturday, Nov. 21.