Women's basketball edged by No. 5 Amherst
---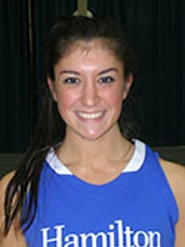 Amherst College's Savannah Holness '15 scored a game-high 18 points off the bench and helped rally the nationally ranked No. 5 Jeffs to a 50-43 NESCAC win against Hamilton College at Hamilton's Margaret Bundy Scott Field House on Jan. 11.

Amherst (14-0 overall, 3-0 NESCAC) owns a 6-2 all-time record against the Continentals. The Jeffs' margin of victory in the three conference wins has been seven points or less.

Marcia Voigt '13 scored 14 of her 16 points in the second half to lead the charge. Voigt also dished out a team-best four assists and Bridget Crowley '13 grabbed a team-high 10 rebounds. Megan Robertson '15 pulled down nine boards and blocked three shots despite being hampered by foul trouble for most of the night.

Samantha Graber '16 posted a team-high 12 points for the Continentals. Madie Harlem '13 collected a season-best 12 rebounds, scored eight points and added four assists. Kim Goidell '13 chipped in seven points and four assists, and Eliza Howe '13 had seven points before she fouled out.

Hamilton (6-7, 0-3) controlled the tempo throughout the first half and built a 23-12 lead at the break. Graber led the way with 10 points in the opening 20 minutes. Holness scored the Jeffs' first eight points. Neither team shot particularly well in the first half as Amherst shot 17.4 percent (4-23) and Hamilton made 28.1 percent (9-32) of its shots.

Graber gave the Continentals their largest lead at 25-12 with a layup just 12 seconds into the second half. At that point, Amherst began to chip away at the Hamilton lead. The Jeffs went on a 13-4 run to close the gap to 29-25. Voigt scored seven points and Robertson added four during the stretch.

The teams traded baskets and Hamilton led 33-30. The Jeffs then rattled off seven straight points to take their first lead and held a 37-33 advantage with 6:13 to go. Holness scored six consecutive points during the run.

After Harlem knocked down two free throws to get back within 37-35, Amherst had an 11-3 spurt and pulled away for their largest lead at 48-38 with 2:06 remaining. Holness and Crowley each scored four points.

Both teams improved their shooting in the second half as Amherst made 48.3 percent (14-29) of their field goal attempts en route to 34.6 percent (18-52) for the game. Hamilton was at 34.8 percent (8-23) in the second half to bring its field goal percentage up to 30.9 percent (17-55). The Jeffs outrebounded the Continentals 42-33.

Hamilton returns to the court for another NESCAC game against Trinity College on Sunday, Jan. 13. Amherst stays on the road for a non-conference meeting with Kean University on Monday, Jan. 14.