Women's basketball edged by Rensselaer
---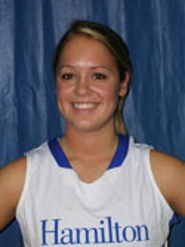 Linda Larsen '11 broke a 44-44 tie with three free throws in the final 89 seconds to give Rensselaer a 47-44 victory over Hamilton College in a Liberty League game at Rensselaer's East Campus Arena on Jan. 21.

Fouled on a three-point attempt, Larsen connected on 2 of 3 from the line to give RPI a 46-44 advantage with 1:29 left. Hamilton went 0-for-5 from the field down the stretch, and Larsen added another free throw with 17 seconds remaining to secure the win.

Rensselaer (7-8 overall, 3-1 Liberty) scored the first eight points and held a 17-6 lead midway through the first half. The Continentals (5-6, 0-4) fought back, scoring 17 of the next 22 points to take a 23-22 lead with 1:49 remaining in the first half.

Eliza Howe '13 led the way, netting eight of her game-high 15 points during that stretch. Rensselaer's Allison Connor '11 drilled a three-pointer and Laura Easterling '12 added a layup for a 27-23 Engineers' lead at the break.

The Engineers opened the second half with a 6-2 spurt to push their lead to 33-25 just 2:30 into the frame. Nicole Monroe '12 gave Rensselaer a 44-41 lead with 4:34 left, but Hamilton's Blue Sanders '13 answered with a three-pointer to even the score.

Sanders grabbed a team-high nine rebounds and added 13 points on three 3-pointers. Larsen and Monroe recorded nine points apiece for the Engineers. The Continentals shot 32.6 percent from the field and 48 percent at the line, and committed 24 turnovers. Rensselaer was even worse in the shooting department at 28 percent, including 3 of 23 from 3-point range. The Engineers helped themselves with 17 offensive rebounds.

Hamilton travels to Vassar College for another league game at 2 p.m. on Saturday, Jan. 22.