Women's basketball edged in OT by No. 18 Bowdoin
---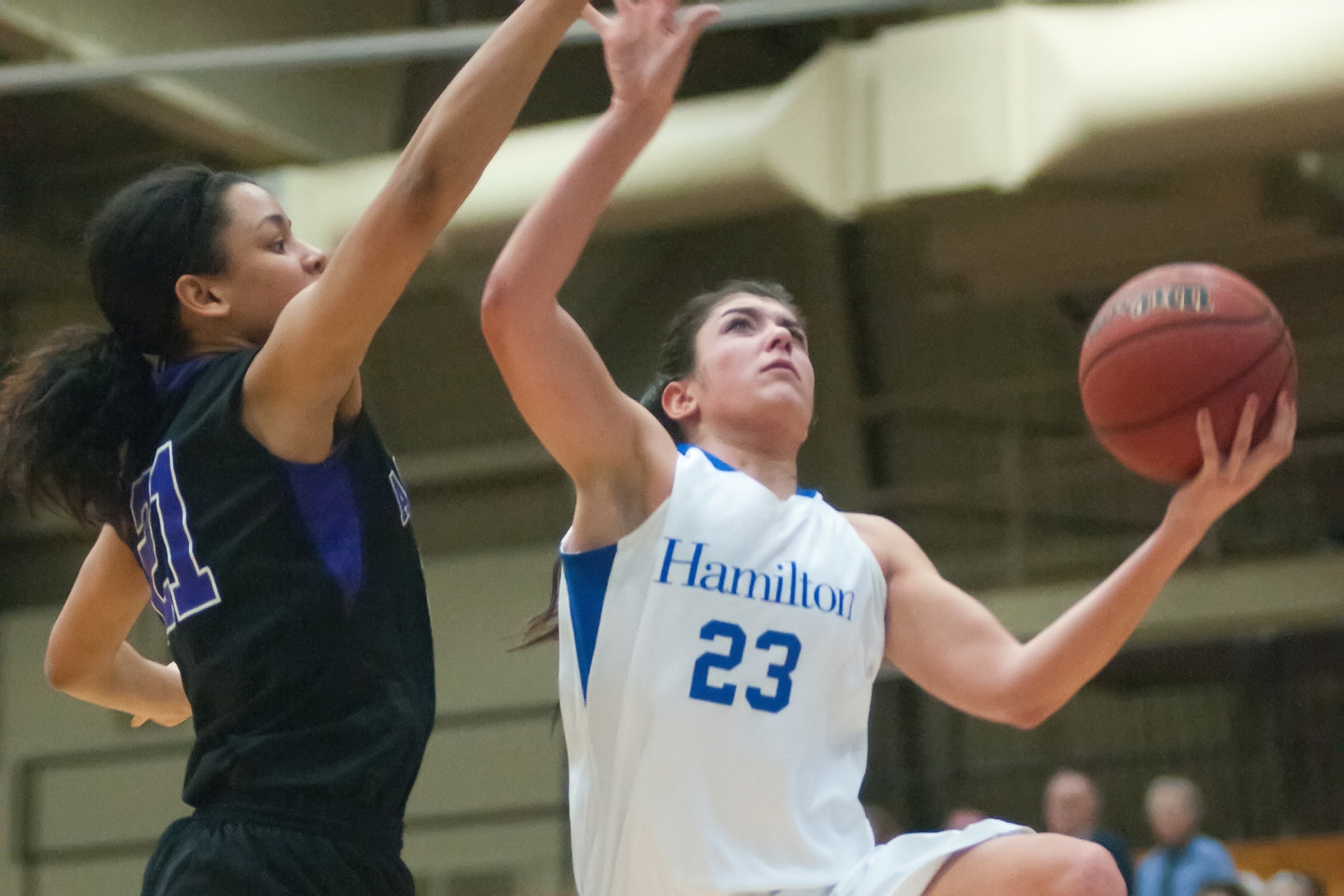 Bowdoin College's Sara Binkhorst '15 poured in 32 points and the nationally ranked No. 18 Polar Bears escaped with a 71-65 overtime win against the Hamilton College Continentals in a NESCAC game at Hamilton's Margaret Bundy Scott Field House on Jan. 18.

Box Score

Bowdoin (15-2, 3-1 NESCAC) has won nine out of the 10 all-time meetings against the Continentals. Hamilton is 1-2 in overtime games this season.

The Polar Bears outscored the Continentals 11-5 in the five-minute overtime period, and Binkhorst posted Bowdoin's first nine points in the extra session. She was 9 of 15 from the floor and 12-for-15 at the free-throw line.

Megan Phelps '15 recorded a double-double for the Polar Bears with 12 points and 13 rebounds. Shannon Brady '16 added 14 points and eight boards, including six on the offensive glass. Bowdoin made as many free throws (24) as the Continentals attempted.

Hamilton's Samantha Graber '16 tied a career high with 28 points and pulled down 12 rebounds. The double-double was the third of Graber's career -- all this season. Carly Gruenberg '16 dropped in 10 points, Olivia Pimm '14 ended up with nine boards and Dani Feigin '14 chipped in nine points. Feigin made a pair of 3-pointers and moved into fifth place on the program's all-time list with 115 for her career.

In overtime, Graber's 3-pointer gave the Continentals a 63-60 lead with 3:07 to go. Binkhorst responded with eight straight points that put Bowdoin in the lead for good. She tied the score with a trifecta, made a layup with 1:34 left and completed a three-point play that made it 68-63 with 41 seconds remaining.

Two Graber free throws made it a one-possession game again with 28 seconds left but Binkhorst went 1-for-2 from the line for a 69-65 advantage, and Hamilton threw the ball away on its next possession. The Polar Bears made two free throws in the final 18 seconds for the final six-point margin.

Bowdoin led 34-25 at the half but the Continentals (7-8, 1-3) shot 50 percent in the second half and nearly pulled off the upset. A 3-pointer by Hamilton's Florence Turiaf '17 forced the sixth tie of the afternoon at 40-40 with 13:27 left. Binkhorst's three-point play put the Polar Bears back up by three points with 12:26 remaining. The Continentals then exploded for a 16-2 run that gave them a 56-45 lead with 5:47 to go. Gruenberg and Caroline Barrett '17 led the spurt with six points apiece.

Bowdoin forced overtime with a 15-4 run that covered the last five minutes of the second half. Binkhorst had nine of those 15 points, including a 3-pointer that tied the score at 58-58 with 1:05 left. After Graber put Hamilton up by one on a free throw with 35.5 seconds remaining, Brady gave the Polar Bears a 60-59 edge on two free throws with 15 seconds to go. Feigin was fouled with seven seconds left, missed the first free throw and made the second to force overtime.

Hamilton travels to Williams College for another NESCAC game on Saturday, Jan. 25. Bowdoin hosts Colby College in conference action next Saturday.