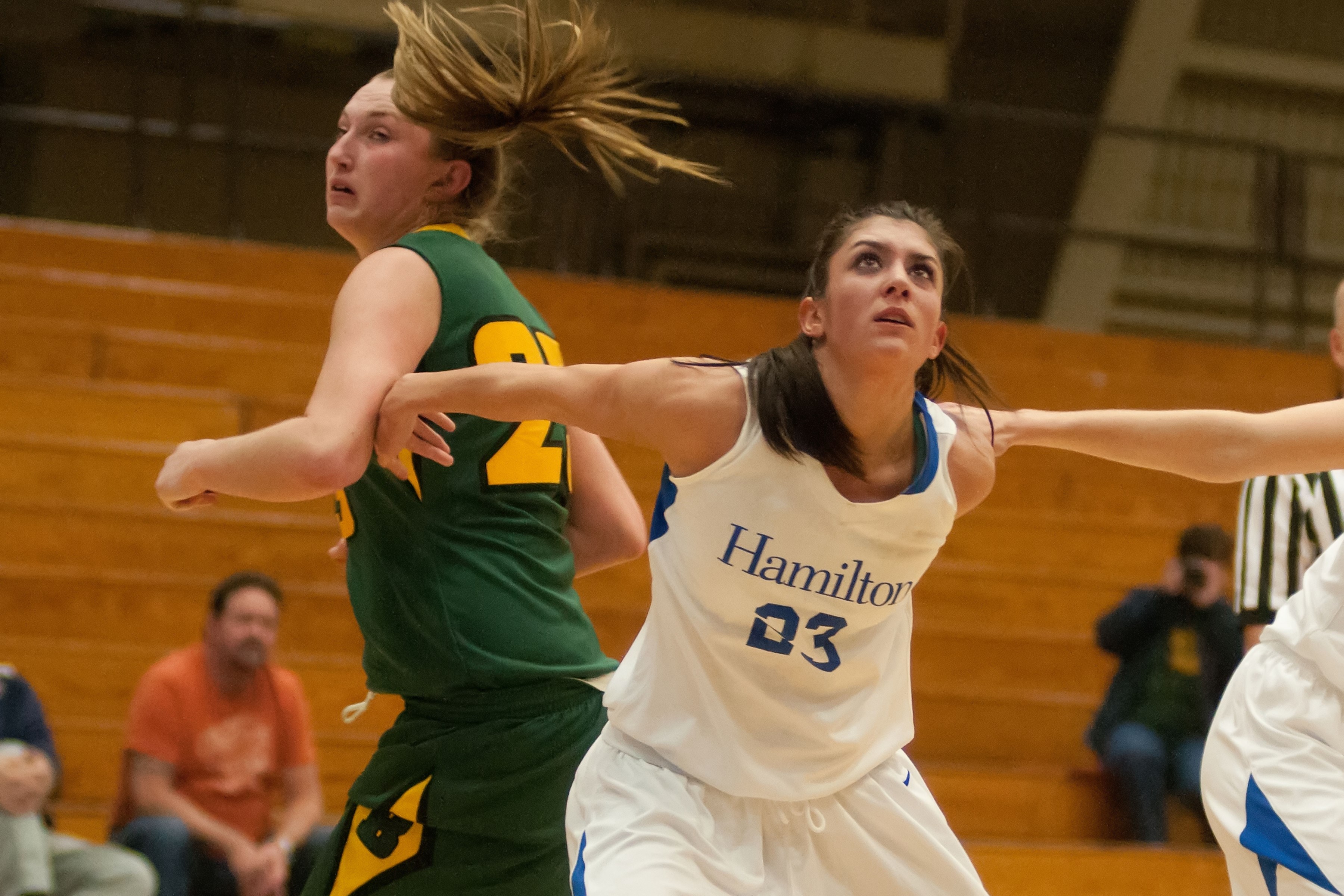 Tufts University made all five of its shots from the floor in overtime and the nationally ranked No. 4 Jumbos survived an upset bid by the Hamilton College Continentals, 73-66, in NESCAC action at Hamilton's Margaret Bundy Scott Field House on Friday night.

Box Score

Tufts (20-1, 7-0 NESCAC) won its 12th straight game and has won nine in a row in the all-time series against the Continentals. This was the first overtime contest this season for both teams.

Michela North '17 helped lead the Jumbos with 21 points and 10 rebounds. Hayley Kanner '15 chipped in 21 points and seven blocked shots. Hannah Foley '15 went 10-for-10 at the free-throw line and finished with 18 points. Josie Lee '17 scored 11 points off the bench and Lauren Dillon '18 handed out seven assists. Tufts owned a 42-33 advantage on the boards and blocked a total of 11 shots.

Sam Graber '16 paced the Continentals (10-10, 1-6) with 27 points and six rebounds and tied a career high with five steals. Graber leads the NESCAC in scoring with 18.1 points per game and is ranked third with 9.6 rebounds per game and fourth with 39 steals.

Lauren Getman '18 matched a season best with 16 points, Theresa Salud '17 added eight points and Adrianna Pulford '15 grabbed six boards for Hamilton. Kate Bushell '17 made all three of her field goal attempts, was a perfect 3-for-3 at the line and finished with a career-high nine points off the bench.

In overtime, Foley started things off with a jumper that gave the Jumbos a 60-58 lead. Graber tied the score with a layup on the next possession but North started a 9-0 run and gave Tufts the lead for good on a basket in the paint with 4:03 left. Kanner followed with a jumper, North converted a three-point play and Kanner's jumper made it 69-60 with 2:10 remaining.

The Continentals pulled within 69-64 on Bushell's three-point play and a free throw by Graber with 43 seconds to go but didn't score again until Graber's steal and layup with 6.9 seconds left. Lee and Foley made two free throws apiece in the final 30 seconds and clinched the victory for the Jumbos.

Graber gave Hamilton a 56-55 edge by sinking two free throws with 1:03 remaining in regulation. After a shot clock violation by Tufts, Caroline Barrett '17 was fouled with 19.7 seconds to go and made both free throws for a 58-55 Continentals lead.

On the Jumbos' next possession, Foley found Lee open in the left corner and she buried the 3-pointer for a 58-58 tie with 9.9 seconds left. It was the 10th tie score of the night.

Barrett drove to the basket for the win but Kanner blocked the shot out of bounds with 1.4 seconds remaining. Barrett's inbounds pass was knocked away by Foley and Lee's desparation heave at the buzzer was short.

The largest lead of the second half was six points by Tufts on two occasions -- 46-40 and 48-42 -- midway through the period. Hamilton shot just 29.2 percent in the second half but made up for it by going 13-for-18 at the free-throw line.

The Jumbos jumped out to an 11-5 advantage early in the first half but the Continentals countered with a 14-2 spurt for a 19-13 lead with 9:43 to go. Getman's 3-pointer with 7:47 left gave Hamilton its largest lead of the night at 24-17. Tufts closed the half with a 14-4 run and led 31-28 at the break. Foley led the Jumbos with 11 points in the opening 20 minutes.

The Continentals host Bates College for another NESCAC game on Saturday, Feb. 7. Tufts travels to Williams College for more conference action on Saturday afternoon.