Women's basketball edges Salisbury
---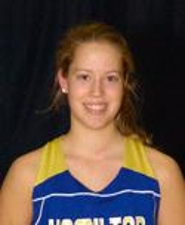 Hamilton College had three players reach double figures in scoring as the Continentals defeated host Salisbury University, 56-54, in the first round of the Salisbury Optimist Classic tournament in Salisbury, Md., on Dec. 4.

The Continentals (4-1 overall) won their fourth straight game. Salisbury suffered their first loss in four games this season.

Madie Harlem '13 came off the bench to lead the Continentals with a game-high 14 points, and added five rebounds and three steals. Alex Sowinski '10 tallied 13 points and contributed five rebounds and two blocks. Eliza Howe '13 also reached double figures with 11 points. Howe recorded two blocks and a game-high four steals. Reisa Asimovic '11 brought down a team-high seven rebounds and dished out four assists.
The first half featured four ties and neither team led by more than five points. Salisbury tied the score at 29-29 with 1 minute, 33 seconds left in the half on a free throw. Salisbury then fouled Harlem, who connected on both free throws to put the Continentals up 31-29 going into the break.
In the first 5:04 of the second half, Hamilton jumped out to a 38-33 lead. Salisbury cut its deficit to one twice in the half. With 7:07 left, the Continentals started a 9-3 run, featuring four points by Sowinski and a three-pointer by Harlem. Harlem's shot put Hamilton up by seven at 56-49 -- the Continentals' largest lead of the game -- with 4:28 left. It was also Hamilton's last points.

Salisbury finished the game with a 5-0 run, but it was not enough. The Sea Gulls missed a three-point shot as time expired that would have won the game.
Hamilton shot 37 percent from the field, including 31 percent from three-point range. The Continentals made 10-of-12 free throws. Hamilton blocked a total of eight shots.
The Continentals play again on Saturday, Dec. 5, against Lehman College at 6 p.m. in the second round of the Classic.