Women's basketball evens record with 17-point win at Wesleyan
---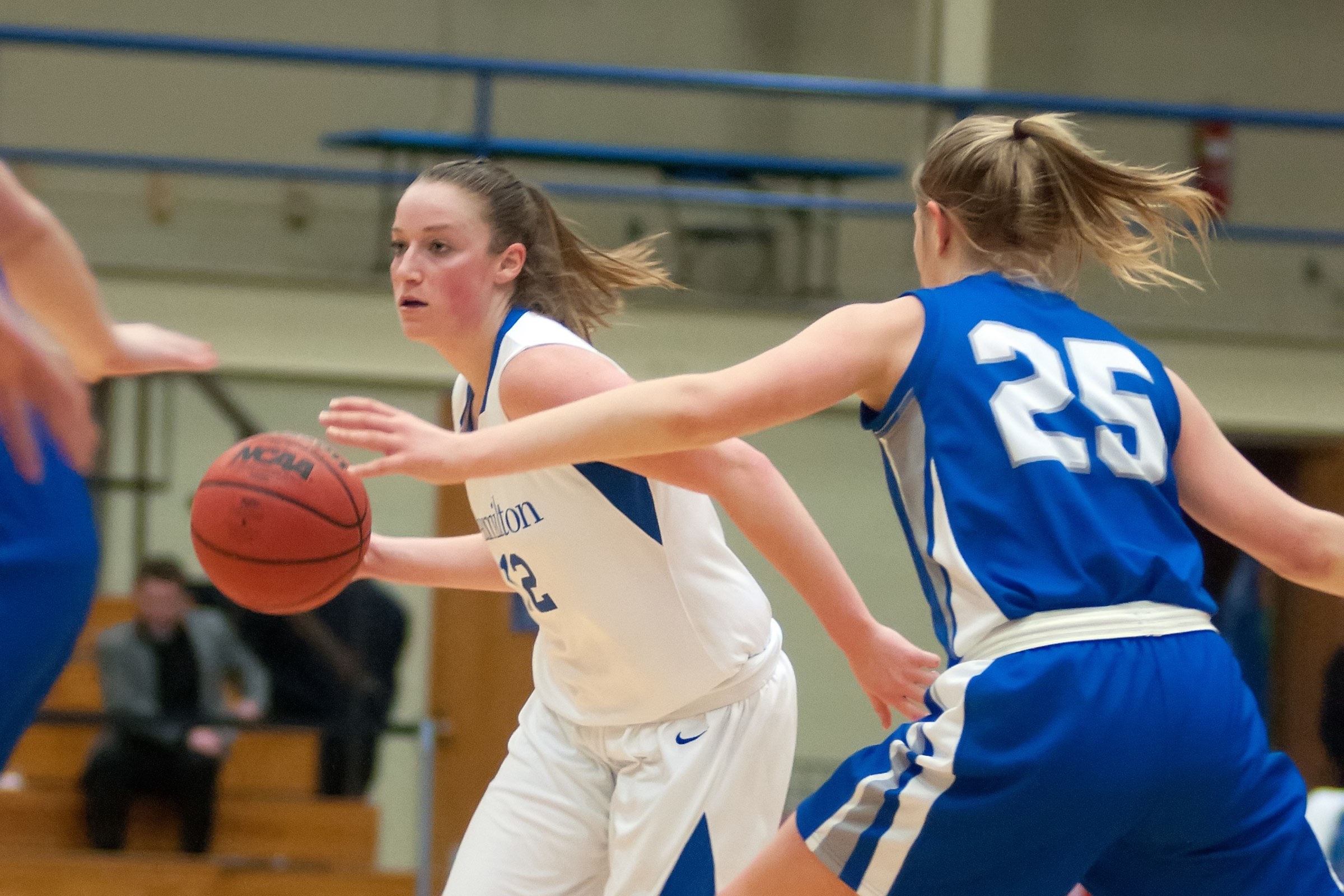 The Hamilton College Continentals won for the fourth time in five games, beating the Wesleyan University Cardinals 60-43 at Wesleyan's Silloway Gym on Friday night.

Box score

The Continentals (11-11, 4-5 NESCAC) moved into seventh place in the NESCAC standings. Dani Feigin '14 led Hamilton with 22 points, five assists and four steals. Feigin, who made five shots from beyond the arc, leads the conference with 60 this season.

Sam Graber '16 recorded her seventh double-double of the season for the Continentals with 18 points and a game-high 13 rebounds and added three steals. Caroline Barrett '17 chipped in nine points and three assists.

The Continentals held Wesleyan (12-10, 3-6) to 26.1 percent shooting from the floor and made 11 3-point baskets. Their first six baskets were 3-pointers, helping them overcome an early 6-0 deficit. Feigin scored the team's first nine points on three of her five 3-point baskets. After a free throw by Barrett, Graber connected on 3-pointers on consecutive possessions and Serena Ward '16 followed with another to put Hamilton up 19-11.

After leading by as many as 13 points in the first half, Hamilton took a 31-22 lead into halftime. The Continentals opened the second half with a 17-9 run that pushed the lead to 17 points.

KellyAnn Rooney '14 was the only Cardinal to reach double digits in scoring, leading the team with 11 points. Brenna Diggins '17 pulled down a team-leading eight rebounds in just 13 minutes.

The Continentals wrap up the regular season on Saturday with a 2 p.m. game at Connecticut College before they make their first appearance in the NESCAC championship quarterfinals at an opponent to be determined on Feb. 22. The Cardinals host nationally ranked No. 15 Williams College on Saturday afternoon.