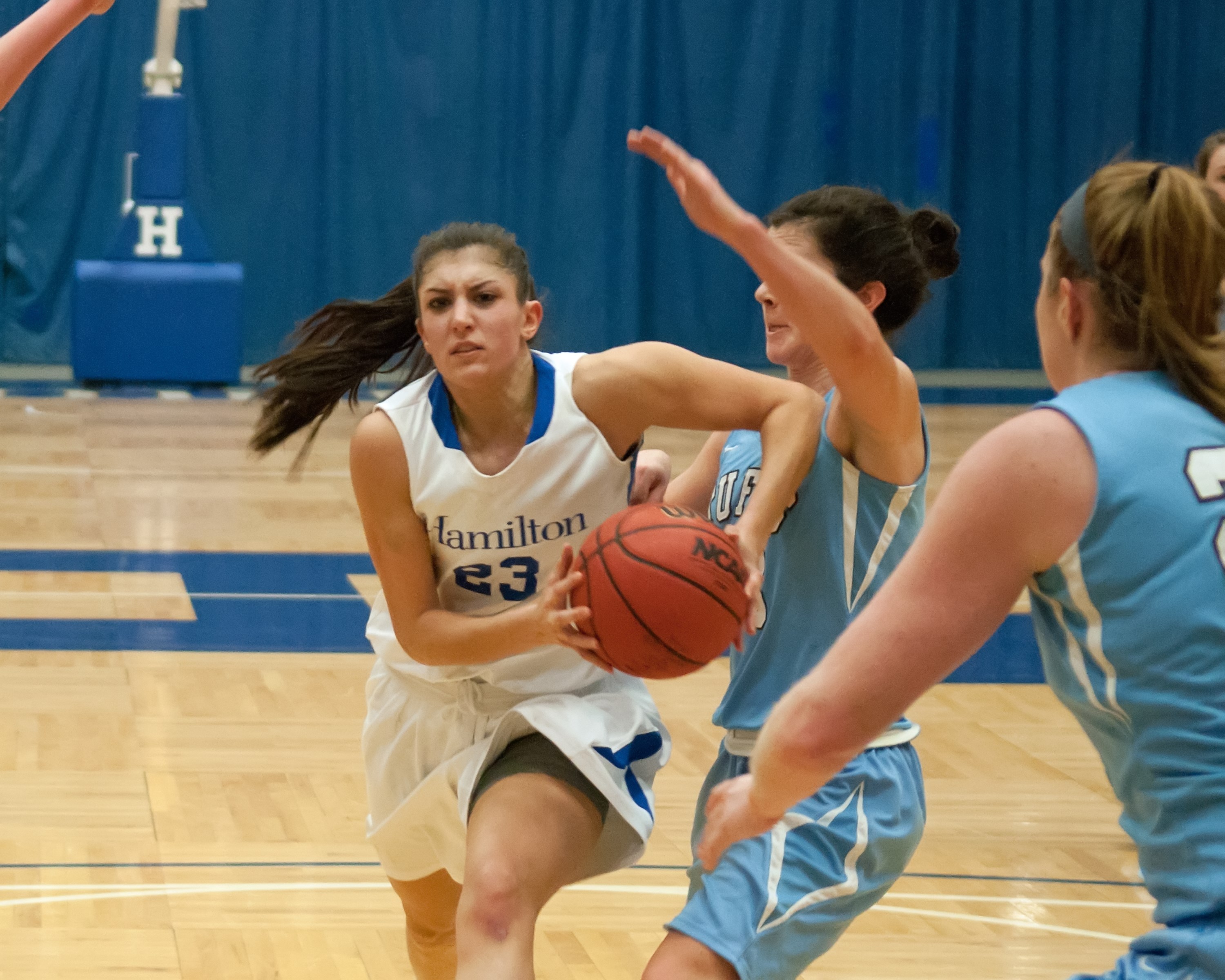 Tufts University jumped out to a 10-0 lead and the nationally ranked No. 5 Jumbos cruised to a 64-43 win against the Hamilton College Continentals in a 2015 NESCAC Women's Basketball Championship quarterfinal at Tufts' Cousens Gymnasium on Saturday afternoon.

Box Score

Tufts (24-1) is the No. 1 seed for the championship and will host the semifinals and final next weekend. The Jumbos held a 40-31 rebounding advantage and improved their record to 10-1 all-time against Hamilton.

The Continentals (12-12) were the No. 8 seed and they were playing in this event for the second straight year in their fourth season in the conference for basketball. Hamilton hosted Tufts on Feb. 6 and took the Jumbos to overtime before losing by the score of 73-66. The 66 points scored by the Continentals are the most by a Tufts opponent this season.

Sam Graber '16 paced Hamilton with 23 points, seven rebounds and two blocked shots. Graber was a perfect 8-for-8 at the free-throw line and was the lone Continental in double figures in points. Adrianna Pulford '15, who had started 22 games, missed her second straight contest due to injury.

Graber leads the NESCAC with 17.6 points per game and is ranked third with 9.5 rebounds per game. She will go into next season needing just 10 points to become the 10th player in program history to reach 1,000 for her career.

Michela North led the Jumbos with 12 points and 14 boards. Lauren Dillon chipped in 10 points and five assists, and Hayley Kanner added 10 points and three blocked shots. Tufts was credited with nine steals, which helped lead to 18 Hamilton turnovers.

Kanner and North made two baskets apiece and Emma Roberson capped the Jumbos' 10-point spurt at the start of the game with a layup. After Graber made two free throws, Melissa Baptista restored Tufts' 10-point lead with 14:53 left in the half. The Jumbos led by double digits the rest of the way.

A 3-pointer by Kelsey Morehead gave Tufts its largest lead of the first half at 37-13 with 50 seconds remaining and the Jumbos took a 37-14 advantage into the locker room. Tufts shot 48.5 percent while the Continentals shot 19 percent in the first 20 minutes.

The Jumbos' lead fluctuated between 20 and 33 points during the second half. North's layup made it 51-18 with 12:29 to go. Graber scored 16 points and Hamilton went 11-for-12 at the charity stripe in the final 20 minutes.