Women's basketball falls in double overtime
---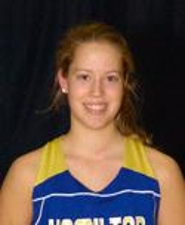 St. Lawrence University went on a 7-0 run in the second overtime and the Saints pulled out a 67-61 double-overtime victory against Hamilton College in a Liberty League game at Hamilton's Margaret Bundy Scott Field House on Feb. 12.
Madie Harlem '13 scored 12 of her 14 points after halftime for Hamilton. Harlem also pulled down seven rebounds. Reisa Asimovic '11 scored 12 points, recorded seven rebounds and had three steals. Eliza Howe '13 also reached double figures with 11 points. Howe also brought down five rebounds.

Cate Schafer '10 contributed nine points, and Alex Sowinski '10 grabbed six boards. Blue Sanders '13 passed out a game-high five assists. The Continentals (13-8 overall, 6-5 Liberty) shot 30 percent from the field, including just 2 of 14 in overtime.

Harlem's 3-pointer with 13 seconds left in the second half tied the score at 51-51 and sent the teams to overtime. She drained another shot from beyond the arc with 1:12 left in the first overtime to give Hamilton a 57-55 lead, but the Saints (15-6, 7-4) made a jumper with 43 seconds remaining to force a second extra period. The Continentals had three shots to win in the final 30 seconds, but missed them all.

Harlem put Hamilton up again at 59-57 with two free throws with 3:20 left in the second OT. St. Lawrence responded with a pair of 3-pointers. The first one put the Saints ahead for good at 60-59 with 3:08 remaining. The second one provided a 63-59 cushion with 2:18 left. The Saints sank two free throws with 18 seconds remaining to account for the final six-point margin.
The Continentals opened the first half with a 10-1 run. Asimovic scored the first four points and Sowinski added a 3-pointer in the opening seven minutes. St. Lawrence hit a jumper to tie the game at 15 with 5:44 left. A layup by Howe gave Hamilton a 20-19 lead at the break.
Hamilton jumped out to a six-point lead at 28-22 in the first three minutes of the second half. A Saints layup at 14:56 gave them a 29-28 lead. The Continentals tied the score at 35 with 9:11 left after a layup by Schafer. The Saints led by five with 7:18 remaining, but the Continentals fought back to force overtime.
Hamilton shot 33 percent from 3-point range and 75 percent (15-20) at the charity stripe. St. Lawrence shot 39 percent from the field and 54 percent at the free-throw line.

The Continentals host Clarkson University for another league game on Saturday, Feb. 13.