Women's basketball falls in final game of Florida trip
---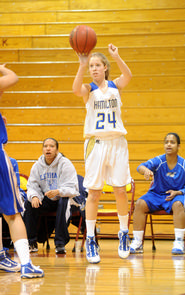 Melissa Tobie scored 22 points and handed out seven assists to lead Montclair State University to a 70-55 win against Hamilton College in the Land of Magic Classic at Embry-Riddle University's ICI Center in Daytona Beach, Fla., on Dec. 30.

Hamilton (5-5 overall) had its win streak snapped at three games. The 70 points are the most allowed by the Continentals this season. Hamilton's opponents are still averaging just 44.2 points per game.

Theresa Towns made all six of her shot attempts and both of her free throws, and finished with 14 points for the winners. Colleen Kelly chipped in 10 rebounds, four steals and two blocked shots. Jaime Ericson added 11 points and seven boards. Montclair State won its sixth game in a row.

Madie Harlem '13 paced the Continentals with 24 points, 10 rebounds and three assists. Harlem recorded the fifth double-double of her Hamilton career. Kim Goidell '13 dropped in 14 points, and Olivia Pimm '14 ended up with eight points and six boards. Eliza Howe '13 scored two points in six minutes in her first game this season.

Montclair State (8-4) scored the first three points and led the whole way. Montclair's first double-digit lead was 19-9 with 10:38 left in the first half, and it was up 36-24 at the half on a 3-pointer by Ericson with 22 seconds remaining.

A jumper by Towns with 11:56 to go gave Montclair its largest lead at 18 points (52-34). Harlem and Goidell scored five points apiece in a 10-0 run that pulled the Continentals within 52-44 with 7:30 left. Hamilton cut its deficit to seven points twice in the final four minutes, but didn't get any closer.

Montclair was credited with 10 steals, which contributed to 20 turnovers for the Continentals. Montclair turned the ball over just 12 times, and shot 45 percent from the field. Hamilton shot 40.4 percent (21-52) from the floor.

The Continentals return home to play their NESCAC opener against Bowdoin College on Friday, Jan. 6.