Women's basketball outlasted at Conn. College
---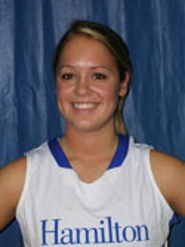 Jeanna Dunleavy scored 14 points and grabbed eight rebounds to lead Connecticut College to a 57-50 win over Hamilton College in a NESCAC game at Conn. College's Luce Field House on Feb. 3.

Tara Gabelman scored seven points, pulled down a game-high 12 boards and blocked three shots for the Camels. Carlee Smith chipped in 10 points and Annie Fierberg added nine rebounds.

Eliza Howe '13 scored a career-high 27 points on 12 of 24 shooting and grabbed eight rebounds to lead the Continentals. Dani Feigin '14 tied a career high with 17 points and made three steals. Adrianna Pulford '15 collected seven boards, including six on the offensive glass.

Conn. College (16-4 overall, 5-3 NESCAC) took a 9-4 lead on a Smith jumper with 16:15 to play in the first half. Feigin drained a 3-pointer, Howe nailed a jumper, and Feigin converted a traditional 3-point play to cap a quick 8-0 Hamilton run that gave the Continentals a 12-9 lead with 14:38 left in the half.

Dunleavy hit a jumper with 2:10 remaining in the half to give the Camels a 23-22 lead. Feigin's jumper with 54 seconds to play put the Continentals back in front 24-23 at the break. Howe and Feigin scored 11 points apiece in the first 20 minutes.

After Howe drilled a 3-pointer to give Hamilton a 33-29 lead with 15:36 to play, the Camels responded with a 12-2 run over the next 4 minutes, 39 seconds to take the lead for good.

Conn. College led by as many as eight points with 2:35 on the clock. Hamilton (8-12, 1-6) cut the Camels' lead to four points twice in the last 33 seconds, but the Continentals were forced to foul and could not get any closer.

Conn. College held a 47-37 rebound advantage and went 14-for-17 (82.4 percent) at the line during the final 20 minutes to seal the win.

Hamilton travels to Wesleyan University for a NESCAC game on Sunday, Feb. 5, at noon.