Women's basketball falls to Medaille
---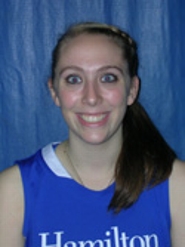 Tanisha Travis '12 scored a game-high 14 points as Medaille College cruised to a 56-29 win over Hamilton College in a non-conference game at Hamilton's Margaret Bundy Scott Field House on Jan. 30.

Travis also pulled down a team-high seven rebounds. Meghan Dougherty '12 chipped in 11 points -- all in the first half -- and four assists. Alicia Montalvo '15 scored eight points and handed out four assists.

Margaret Smith '15 hit four 3-pointers in the second half and led the Continentals with a season-high 13 points off the bench. Claire Hunsinger '13 pulled down a game-high eight rebounds, and Olivia Pimm '14 added seven.

Hamilton (8-11 overall) led 4-3 after Pimm hit a jumper with 16:28 remaining in the first half. But Medaille scored the game's next 25 points and held the Continentals without a point for 11 minutes, 48 seconds, to seize control.

Travis sparked the run with a traditional three-point play with 15:41 on the clock, and capped it with a free throw with 5:09 left to give the Mavericks a 28-4 lead. Montalvo scored all eight of her points during the run.

Hamilton's Kim Goidell '13 scored the last points of the half on a pair of free throws with 35 seconds remaining, and Medaille held a 36-7 advantage at the break. The Mavericks shot 52.2 percent from the floor in the first half, and went 7-for-12 (58.3 percent) from behind the arc. Hamilton shot just 7.4 percent from the floor during the first 20 minutes.

The Mavericks (16-4) enjoyed their largest lead at 46-9 following a Travis layup with 12:58 to play. Smith hit all four of her 3-pointers during the final 10:43, but the Continentals didn't get closer than 23 points the rest of the way.

Medaille won its seventh straight game. The Mavericks picked up their first win in three tries against Hamilton.

Hamilton travels to Connecticut College for a NESCAC game on Friday, Feb. 3, at 6 p.m.