Women's basketball falls to Skidmore
---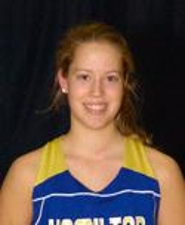 Skidmore College made 17 more free throws than Hamilton College and the Thoroughbreds held on late for a 56-50 win in a Liberty League game played at Skidmore's Sports and Recreation Center on Jan. 16.
Madie Harlem '13 led all scorers with 19 points for Hamilton (7-5 overall, 1-2 Liberty). Blue Sanders '13 chipped in 13 points off the bench, and Reisa Asimovic '11 recorded eight assists and five rebounds for the Continentals. Asimovic has 17 assists in the last two games. Cate Schafer '10 brought down a team-high six boards and added eight points.
The Continentals opened the first half with an 8-4 run that included a 3-pointer by Harlem. She was 4-for-11 from behind the arc. Schafer broke a 13-13 tie with a free throw with 4:59 left. That turned out to be Hamilton's last lead. The Thoroughbreds (11-2, 3-0) ended the half with an 8-2 run for a 21-16 advantage at the break.
Skidmore was able to stretch its lead to as many as 13 points at 37-24 with 10:33 left. Hamilton cut Skidmore's lead to four at 49-45 on a 3-pointer by Harlem with 4:43 remaining. The Thoroughbreds responded with two free throws. The Continentals again cut their deficit to four at 51-47 after a basket from Asimovic with 3:35 left. However, Skidmore went 5-for-8 at the free-throw line in the final 3:13 to secure the win.
Skidmore scored 27 points off 28 Hamilton turnovers and out-rebounded the Continentals 43-27. The Thoroughbreds grabbed 23 offensive boards. Hamilton shot 42 percent from the floor and held Skidmore to 27 percent from the field. The Thoroughbreds made 23 free throws out of 32 attempts, while the Continentals were just 6 of 9 at the line.
The Continentals return to action on Tuesday, Jan. 19, when they host Middlebury College for a non-league game at 6 p.m.