Women's basketball falls to Skidmore at home
---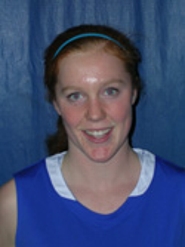 Three players scored in double figures to lead Skidmore College to a 42-29 win over Hamilton College at Margaret Bundy Scott Field House on Nov. 21.

Jessie Kavana '12 led Skidmore with 11 points and Christina Gargiso '12 added 10. Jordyn Wartts '14 chipped in 10 points, and recorded a team-high six rebounds and three steals.

Madie Harlem '13 led Hamilton with eight points to go along with seven rebounds and four steals. Adrianna Pulford '15 grabbed a game-high eight boards and led the team with three assists. Isabel Pagliaccio '14 scored six points on 3 of 5 shooting off the bench, and blocked two shots.

Neither team led by more than three points until the Thoroughbreds ended the first half with a 7-0 run. Pagliaccio nailed a jumper to give Hamilton a 17-14 lead with four minutes remaining. But Wartts made a layup 14 seconds later, Kavana gave Skidmore the lead for good with a 3-pointer with 3:16 left, and Gargiso made a pair of free throws with 2:24 remaining. The Thoroughbreds held a 21-17 advantage at the break.

Skidmore (4-0 overall) scored the first five points as part of a 16-3 run to start the second half, and stretched their lead to 37-20 with just over 14 minutes left. The Thoroughbreds led by as many as 18 at 42-24, but after a 3-pointer by Molly McLaughlin '15 with 9:35 remaining, they were held scoreless for the rest of the game.

Hamilton (1-2) was unable to take advantage, as the Continentals went 9:39 without scoring until Harlem sank a jumper with 2:44 to play. Margaret Smith '15 hit a 3-pointer with 2:05 remaining to close the scoring for Hamilton.

Skidmore shot 28 percent from the floor, while Hamilton shot 23.6 percent. The Thoroughbreds made six 3-pointers to the Continentals' two.

Hamilton hosts Elmira College for a non-conference game on Monday, Nov. 28, at 7 p.m.