Women's basketball falls to Trinity on buzzer-beater
---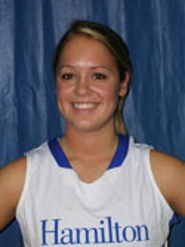 Trinity College's Shantel Hanniford '14 made a layup as time expired and lifted the Bantams to a 52-50 NESCAC win over Hamilton College at Hamilton's Margaret Bundy Scott Field House on Jan. 13.

Eliza Howe '13 made a 3-pointer for the Continentals that tied the score at 50-50 with 12 seconds remaining. Trinity decided not to call a time out and Moriah Sweeney '14 hoisted up a heavily-contested shot with three seconds left that didn't hit anything. Hanniford grabbed the loose ball and released her shot just before the final buzzer. The Bantams are winners of five of their last six games.

Hanniford finished with eight points and tied a season high with 10 rebounds. Taylor Murtaugh '14 and Hannah Brickley '14 paced the offense with 10 points apiece. Brickley also hauled in eight boards off the bench.

Howe led all players with 21 points and three steals. Samantha Graber '16 contributed nine points and Madie Harlem '13 added three steals. Harlem moved into a tie for fourth place on Hamilton's all-time list with 181 steals.

After Trinity opened the scoring with a layup by Emily Dixon '14, Hamilton scored eight of the next nine points for an 8-3 lead. Howe scored four points during the spurt. The Continentals' lead grew to eight points at 15-7 after a 7-0 run that included a 3-pointer by Howe.

The Bantams (10-5 overall, 2-1 NESCAC) answered with a 10-2 run for a 19-17 advantage. Brickley paced Trinity with five points during the spurt. Hamilton scored the next five points, but Heather Cain '16 knocked down a 3-pointer for the Bantams as the shot clock expired with five seconds left to tie the score at 22-22 at the half.

Neither team led by more than four in the second half. Howe connected on two free throws to give Hamilton its only lead of the second half at 24-22.Trinity answered with six straight points to go up 28-24, but the Continentals climbed back and tied the score at 30-30.

The score was still tied at 36-36 when Murtaugh scored four consecutive points and gave the Bantams a 40-36 edge. Howe responded with five of the next six points and tied things at 41-41.

A Hanniford layup with 48 seconds left put Trinity back up by four at 48-44. Dani Feigin '14 nailed her second 3-pointer of the afternoon and brought the Continentals within one. Abigail Hancock '14 hit two free throws for the Bantams and made it 50-47 before Howe hit her game-tying three.

The Bantams shot well in the second half at 48 percent (13-27) and finished at 41.2 percent (21-51) for the game. Hamilton's 11 steals helped force 25 turnovers, but the Continentals managed to shoot just 28.3 percent (15-53) from the floor. Trinity dominated the boards, 48-25, including 16 offensive rebounds that resulted in 21 second-chance points.

Hamilton (6-8, 0-4) hits the road for a non-conference game at SUNY Potsdam on Tuesday, Jan. 15. Trinity heads home for a NESCAC game with Colby College on Friday, Jan. 18.