Women's basketball falls to Vassar
---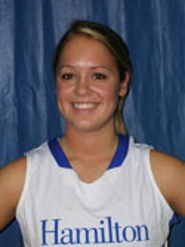 Cydni Matsuoka '14 scored a career-high 33 points on 6 of 8 shooting from 3-point distance to lead Vassar College to a 76-60 victory against Hamilton College in a Liberty League women's basketball game at Vassar's Athletics & Fitness Center on Jan. 22.

In what has become common for the Brewers (9-6 overall, 4-1 Liberty) this season, the backcourt of Matsuoka and Brittany Parks '12 were offensive juggernauts, scoring 56 of Vassar's 76 points. Parks poured in 23 points -- the 14th time in 15 games she has recorded double figures.

The Brewers' nine wins matches last year's win total, which were the most since 2000-01. The 4-1 league record is the best in school history and keeps Vassar atop the league standings. Hamilton (5-7, 0-5) has lost seven straight games. The Continentals host Clarkson University in league play on Friday, Jan. 28, at 6 p.m.

Hamilton was led by Eliza Howe '13, who tallied a career-high 21 points and a team-high five rebounds. Blue Sanders '13 had 12 points and Madie Harlem '13 added 10 points and six assists.

The combination of Matsuoka and Parks scored 37 of Vassar's 42 points in the first half with Matsuoka shooting 8 of 9 from the field, and 4 of 5 from long range. Hamilton led only once at 2-0 following the game's first basket by Harlem. The Brewers took a 31-30 lead with 7:19 left, and then went on an 11-2 run to go into the break with a 42-32 advantage. In that stretch, Matsuoka scored eight points, including a pair of 3-pointers.

Hamilton drew within six points at 43-37 just 93 seconds after the break following a layup by Howe, but the Continentals trailed by double digits for much of the second half. After the initial five minutes, Hamilton never got closer than 10 points. When Vassar's Oliva Westbrook-Gold '13 connected on a jump shot with 13:27 to play, the Brewers had built a comfortable 55-40 lead.

Vassar extended that margin to 18 points at 64-46 following a layup by Hannah Senftleber '14 with 7:24 to play. The Brewers scored 17 points off 11 Hamilton turnovers. The Continentals held a 20-14 edge in points in the paint. Senftleber had 10 points and 11 rebounds -- her seventh double-double of the season. Parks notched her own double-double with a career-high 10 assists. Matsuoka had five assists.

Vassar shot 44 percent from the field, but was 10 of 20 from 3-point range. The Brewers enjoyed a 44-23 rebounding advantage. Hamilton shot 42 percent from the floor, including 7 of 12 from beyond the arc.