Women's basketball falls to Williams
---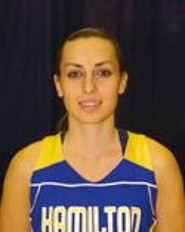 Hamilton College ended its six-game winning streak with a 64-45 loss to host Williams College in a non-league game at Chandler Gym on Dec. 12.
The Continentals (6-2 overall) were led in scoring by Reisa Asimovic '11, who recorded 17 points. Asimovic added six rebounds and three assists. Madie Harlem '13 tallied nine points, nine rebounds and two assists. Eliza Howe '13 also contributed nine points, and brought down six rebounds to go along with two steals. Lisa Olszewski '11 chipped in five rebounds and two blocked shots.
Both teams struggled with poor shooting in the opening half. The Continentals shot 26.9 percent from the floor and Williams shot 25 percent. The Ephs (8-2) went into the break with a slim 19-17 lead.
Williams turned up the heat in the second half with dramatically improved shooting. The Ephs shot 45.9 percent from the field in the final 20 minutes and held Hamilton to just 33.3 percent. Williams also enjoyed a 49-39 advantage in rebounds. The Ephs totaled 17 offensive boards, while Hamilton recorded eight. Hamilton struggled from 3-point range as the Continentals were just 2-for-12, but made 9 of 10 shots at the free-throw line.
The Continentals are off until Jan. 9, when they host William Smith College for their Liberty League opener at 1 p.m.