Women's basketball nets non-conference road win
---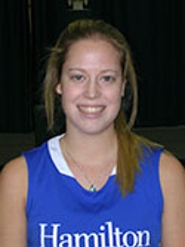 Hamilton College's Madie Harlem '13 posted her sixth career double-double with 24 points and 11 rebounds and the Continentals held off Albany College of Pharmacy and Health Sciences 57-52 in a non-conference game at ACPHS' Albert M. White Gymnasium on Jan. 29.

Harlem moved into eighth place on the team's all-time scoring list with 1,067 career points. She has averaged 20.2 points in the last five games, and the Continentals are 4-1 during that stretch.

Eliza Howe '13 added nine points and four assists for Hamilton. Dani Feigin '14 recorded four assists and three steals and Samantha Graber '16 pulled down seven boards.

Alyson Johnson led three Panthers in double figures with 16 points and blocked three shots. Megan Serley and Taylor Sullivan tacked on 14 points apiece, and Alexa Schooley grabbed a team-best eight rebounds.

Neither team led by more than three points until Graber made a layup that gave Hamilton a 16-11 lead with 7:04 left. After the teams traded baskets, Graber converted another layup, and Harlem knocked down a trifecta that opened up a double-digit lead at 23-13 with 3:51 to go in the half. Harlem made another 3-pointer with 2:05 remaining for the Continentals' largest lead of the half at 26-15.

The Panthers (11-3 overall) chipped away by scoring nine of the final 11 points of the half, and the Continentals led 28-24 at the break. Sullivan scored the last six points and had 10 in the half. Harlem led all scorers with 14 points in the opening 20 minutes.

Johnson began the second half with a 3-pointer and a jumper that gave the Panthers a 29-28 lead. Hamilton responded with a 12-0 run for a 40-29 lead. Harlem led the way with six points during the run, and Howe, Feigin and Rachel Fredey '15 all had two.

The Continentals (10-9) seemed to be in control with their largest lead of the night at 44-30 with 13:20 left. But ACPHS stormed back with a 21-5 run and reclaimed the lead at 51-49 with 4:03 to go. Serley paced the Panthers with eight points and Johnson and Schooley each scored four during the spurt.

On Hamilton's next possession, Feigin grabbed an offensive board and hit a jumper to tie the score at 51-51. After ACPHS missed a layup, Feigin drained her only 3-pointer of the contest, and put Hamilton back on top 54-51 with 2:17 remaining. Howe made a free throw with 22 seconds left and Harlem added a pair with 11 seconds remaining to seal the victory.

Hamilton shot 41.8 percent (23-55) from the floor and a perfect 7-for-7 at the free-throw line. The Panthers shot 37.3 percent (19-51). The Continentals enjoyed a slight advantage on the boards at 37-32, and was credited with 17 assists on 23 made field goals. Hamilton improved to 4-0 all-time against ACPHS.

The Continentals return to NESCAC play at home against Connecticut College on Friday, Feb. 1.