Women's basketball gets road win at SUNY Potsdam
---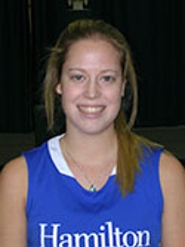 Hamilton College's Madie Harlem '13 led all scorers with 18 points and the Continentals topped SUNY Potsdam 62-54 in a non-conference game at Potsdam's Welsh Gymnasium on Jan. 15.

Harlem also grabbed a game-high eight rebounds and recorded three steals. Harlem's 184 career steals moved her into sole possession of third place on the team's all-time list.

Dani Feigin '14 dropped in 13 points thanks in part to 3 of 7 shooting from beyond the arc for Hamilton. Feigin added game highs of five assists and four steals. Eliza Howe '13 posted 14 points and Samantha Graber '16 scored 12 and racked up three steals.

Bailey Weigel and Jessica Kouzan led the Bears with 15 points apiece. Weigel pulled down a team-high six boards and Hannah Kmiecinski dished out four assists.

Hamilton (7-8 overall) jumped out to a 9-3 lead as Harlem scored the team's first five points and Graber and Rachel Fredey '15 each added two. The Continentals held a 15-9 advantage when Potsdam scored seven unanswered and took their only lead of the night at 16-15 with 6:26 left in the half.

Feigin responded with a trifecta that sparked an 8-2 run and put Hamilton back on top 23-18. The Continentals didn't trail again. In the final minute of the half, Weigel made a layup for the Bears and Harlem knocked down a 3-pointer, and the Continentals took a 26-20 lead into the break. Weigel and Harlem led all scorers with 10 points apiece.

The Continentals extended their lead to 34-23 less than four minutes into the second half after Feigin drained a shot from 3-point range and Harlem converted a 3-point play. The Bears later pulled to within five at 41-36 after 3-pointers by Katy Briedis and Chenice Russell with 12:05 remaining.

Hamilton brought the lead back up to nine, but Potsdam scored six straight points in 66 seconds to get within 48-45 with 5:15 left to play. The Continentals answered with 10 straight points for a 58-45 lead. Back-to-back 3-point plays by Graber and Howe started the run, and layups by Howe and Harlem gave Hamilton its largest lead of the night with 2:28 remaining.

The Bears (1-12) didn't go away quietly. A Kouzan 3-pointer made it a six-point game at 60-54 with 43 seconds left. Feigin knocked down a pair of free throws on the ensuing possession for the final margin. Potsdam shot 63 percent in the second half, including 6 of 8 from long range.

The Continentals shot 43 percent (22-51) overall from the field, including 5 of 12 from 3-point range. The Bears shot at a 48.7 percent (19-39) clip, including a blistering 58.3 percent (7-12) from beyond the arc to stay in the game.

Hamilton's 13 steals helped force 22 turnovers and the Continentals committed only 11. Hamilton entered the game ranked sixth in Division III with just 13.4 turnovers per game. The Bears edged the Continentals on the glass, 30-29.

Hamilton breezed to a 63-43 win against Potsdam last season in the only other meeting between these programs.

The Continentals resume their NESCAC schedule at Middlebury College on Friday, Jan. 18.