Women's basketball gets road win over William Smith
---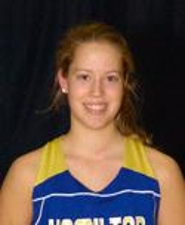 Madie Harlem '13 led Hamilton College with 18 points and six steals as the Continentals defeated William Smith College 60-51 in a Liberty League game played at William Smith's Bristol Gym on Feb. 9.
Harlem also grabbed six rebounds and passed out three assists. Reisa Asimovic '11 scored 12 points and brought down a team-high eight rebounds. Blue Sanders '13 also reached double figures with 10 points, and added three assists. Alex Sowinski '10 handed out a game-high five assists. Cate Schafer '10 tallied eight points and six rebounds.
Hamilton (13-7 overall, 6-4 Liberty) took a 4-2 lead 3 minutes, 21 seconds into the game on an Asimovic jumper. The Continentals did not let go of the lead for the rest of the game. An 8-2 run that ended with a 3-point play by Lisa Olszewski '11 gave the Continentals a 12-4 lead with 12:38 left.
Seven unanswered points for Hamilton, including a 3-pointer and free throw by Harlem, gave the Continentals a 12-point lead at 23-11 with 5:54 remaining. A long jumper by Sanders with 1:13 remaining in the half made the score 29-19. The Herons (6-14, 2-8) responded with a jumper, but Olszewski made a layup as time expired for a 31-21 Hamilton lead at the break.
Hamilton held a 13-point lead twice in the second half. William Smith went on a 12-4 run and cut the Continental lead to 45-40 on a jumper with 10:08 remaining. Asimovic answered with a 3-point basket and a layup to make the score 50-40.

The Herons were able to get within four with 2:53 left when a William Smith layup made the score 54-50. Harlem responded with an old-fashioned 3-point play to put Hamilton back up by seven. The Herons made one free throw, but the Continentals were 3-for-4 at the free-throw line in the last 43 seconds to account for the final.
Hamilton shot 47 percent from the field, but just 41 percent at the free-throw line. William Smith shot 32 percent from the floor and 18 percent from behind the arc.
The Continentals return to action on Friday, Feb. 12, when they host St. Lawrence University for another league game.