Women's basketball holds on for win at Rensselaer
---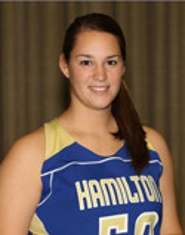 Sydney Fasulo '09 scored 16 points, grabbed 11 rebounds and handed out four assists to lead visiting Hamilton College to a 54-50 Liberty League win against Rensselaer at Robison Gym on Feb. 6.
Fasulo moved past Jen Moran '99 and into fourth place on the team's all-time scoring list with 1,225 points. Fasulo recorded her 16th career double-double. Sarah Schrader '09 chipped in 10 points and three steals. Madelyn McGuinnis '09 added eight points.
Hamilton (11-7 overall, 4-4 Liberty) shot 66.7 percent (16-24) from the field in the first half and built a commanding 33-19 lead at the break. The Continentals held a 12-10 lead with 13:15 left, but exploded for a 21-6 run that gave the visitors a 17-point cushion. Kari Skitka '12 made the score 33-16 with a layup with 2:00 remaining. Fasulo finished the half with 12 points.
Hamilton's largest lead of the second half was 15 points, which came just 53 seconds into the half. The Continentals led 36-22 on a Schrader free throw with 18:02 left. Hamilton didn't score another point until Alex Sowinski '10 nailed a three-pointer with 9:19 remaining. However, the Continentals still led by 10 at 39-29.
Hamilton pushed its advantage back up to 14 points twice, including 47-33 on a McGuinnis layup with 4:08 left. Rensselaer (13-5, 5-3) staged a furious rally during the final four minutes, but couldn't get closer than the final four-point margin.
The Continentals shot 51 percent from the floor for the game. Meanwhile, Hamilton limited the Red Hawks to 35 percent. The Continentals held a slim 32-29 edge in rebounds.