Women's basketball notches first win this season
---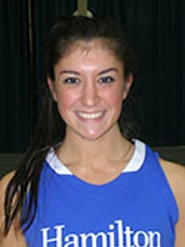 Four Hamilton College players scored in double figures and the Continentals used a suffocating defense to defeat Union College 68-49 in a non-conference game at Union's Viniar Athletic Center on Nov. 28.

Hamilton posted its first win for first-year coach Michelle Collins after opening the season with three straight losses. The Dutchwomen are also 1-3 after dropping their home opener.

Samantha Graber '16 nailed 4 of 5 shots from 3-point range and finished with a team-high 15 points for the Continentals. Madie Harlem '13 chipped in 14 points, five steals and three assists. Dani Feigin '14 dropped in 13 points and Eliza Howe '13 contributed 12 to go with seven rebounds and three assists. Serena Ward '16 added eight points in just 13 minutes.

Brittney Kenney was Union's lone double-figure scorer with 15 points. Kenney also pulled down eight boards -- all on the defensive glass. Kelsey McDonald was credited with three assists and Kate Thompson blocked three shots.

Hamilton made 13 steals, which helped force 23 turnovers by the Dutchwomen, while the Continentals committed just 11 turnovers. Hamilton attempted 26 more shots than Union, thanks in part to 15 offensive rebounds for the Continentals, and held a 41-36 rebounding edge overall. Hamilton made 11 of 25 shots (44 percent) from long range, while the Dutchwomen drained only four 3-pointers.

Union led 4-2 early, but the Continentals went on an 11-2 run and didn't trail again the rest of the night. Howe started the spurt with a basket, Feigin followed with a trey and Harlem scored the next six points for a 13-6 advantage with 14:23 left in the first half. Harlem finished the half with 12 points. Hamilton led by as many as 10 points three times and took a 33-26 cushion into the locker room.

The Dutchwomen roared back with five straight points to open the second half, and drew even at 38-38 on a Thompson layup with 15:29 remaining. Rachel Fredey '15 put the Continentals back on top with a layup, but Kenney tied the score again with a basket from close range.

Hamilton then took the lead for good with a 10-0 run. Ward's 3-pointer started the game-clinching spurt, Howe followed with two baskets and Feigin ended it with a trifecta for a 50-40 lead with 10:46 left. Union didn't get closer than seven points the rest of the way.

The Dutchwomen were still within nine points at 58-49 after Kenney's 3-pointer with 6:54 remaining. But Kenney's basket represented the last points of the night for Union, and the Continentals ended the game with another 10-0 run.

Hamilton is at Utica College for another non-conference game on Saturday, Dec. 1.