Women's basketball downed by No. 24 Colby
---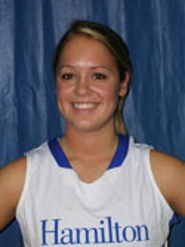 Rachael Mack '12 posted 14 points, nine rebounds and five steals to lead nationally ranked No. 24 Colby College to a 65-54 win over Hamilton College in a NESCAC game at Hamilton's Margaret Bundy Scott Field House on Jan. 8.

Jil Vaughan '12 scored 13 points to go along with nine rebounds, and Jacky McLaughlin '13 finished with 12 points and four assists.

Eliza Howe '13 scored 15 of her season-high 19 points in the second half to lead the Continentals. She also grabbed five rebounds. Madie Harlem '13 posted 10 points and three steals. Dani Feigin '14 chipped in 10 points, and Olivia Pimm '14 pulled down a team-high seven boards.

Colby (9-1 overall, 1-0 NESCAC) jumped out to a 15-2 lead with 13 minutes, 13 seconds remaining in the first half. McLaughlin scored seven points during the stretch and capped the spurt with a 3-pointer.

Hamilton (5-7, 0-2) responded by holding the Mules to just 11 points the rest of the half. Vaughan hit a jumper with 3:48 remaining to make it 26-18. But the Continentals scored the final seven points of the half, including a jumper by Kim Goidell '13 with four seconds left, to pull within 26-25 at the break.

Colby scored the first nine points of the second half and opened a 35-25 lead with 17:01 remaining. Mack and Vaughan converted layups, Diana Manduca '13 drained a 3-pointer, and Mack nailed a jumper to cap the run.

A layup by Feigin pulled Hamilton within 35-29 with 16:05 left, but that was as close as the Continentals would get. The Mules led by as many as 17 points later in the half.

Colby held a 39-33 rebound advantage, and shot 44.4 percent from the floor. Hamilton shot just 33.3 percent. The Mules have won four straight games and lead the all-time series 10-0.

Hamilton travels to No. 1 Amherst College for a NESCAC game on Friday, Jan. 13, at 6 p.m.