Women's basketball outlasted by unbeaten New Paltz
---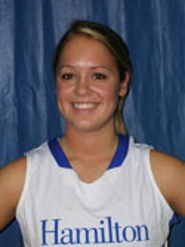 Michelle Valle '16 posted her second double-double of the season with 10 points and 11 rebounds as SUNY New Paltz rallied for a 52-43 win over Hamilton College in a non-conference game at New Paltz's Hawk Center on Dec. 11.

Hamilton (4-4 overall) had its win streak come to an end at four games. The Hawks remained unbeaten in nine games. The four teams the Continentals have lost to this season have just one loss so far between them.

Alex McCullough '13 scored a team-high 12 points and blocked two shots, and Maliqua Fisher '13 netted 11 points for the Hawks (9-0). Jeanette Scott '14 chipped in eight boards and two blocks, and Goldie Harrison '16 recorded three assists and a game-high four steals.

Eliza Howe '13 finished with a game-high 13 points for the Continentals. Madie Harlem '13 added 12 points and three assists, and Samantha Graber '16 grabbed eight rebounds.

Hamilton jumped out to a 10-2 lead on 3-pointers by Harlem and Howe. The Hawks battled back to take a 16-12 lead with 8:26 to go in the first half. The Continentals regained the lead at 17-16 on a Graber layup and a trifecta by Kim Goidell '13.

New Paltz scored 12 of the final 16 points of the half for a 28-20 lead at the break. Fisher led the way with seven points, Valle converted a layup and McCullough drained a shot from beyond the arc as time expired. The Continentals shot 30 percent (6-20) from the field in the opening 20 minutes.

After trading baskets to open the second half, the Continentals used a 14-2 run to go up by four at 36-32. Harlem and Dani Feigin '14 knocked down 3-pointers to begin the spurt, and Howe scored six points.

The Hawks answered with 12 straight points for a 44-36 advantage with 5:30 remaining and they led the rest of the night. Moments later, Goidell made a free throw to cut Hamilton's deficit to seven, but the Continentals didn't get any closer. New Paltz converted 11 of 16 free throws in the final 20 minutes to help secure the victory.

For the night, the Hawks made more free throws (15) than Hamilton attempted (10). New Paltz racked up 11 steals and six blocks on defense. The teams combined to commit 51 turnovers and neither shot the ball that well. The Hawks finished at 34 percent (17-50) and the Continentals ended up at a 26.8 percent clip (15-56). Hamilton had scored 62 or more points in each of its last four games.

Hamilton returns home for its final game of the semester against Buffalo State College on Saturday, Dec. 15.