Women's basketball overcomes slow start to win at home
---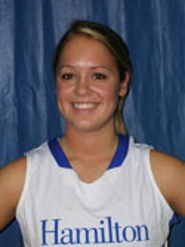 Eliza Howe '13 posted 16 points, seven rebounds and four steals to lead Hamilton College to a 53-45 win over Albany College of Pharmacy in a non-conference game at Hamilton's Margaret Bundy Scott Field House on Jan. 26.

Kim Goidell '13 chipped in 15 points and Claire Hunsinger '13 grabbed seven boards for the Continentals. Hamilton scored 26 points off 25 Albany Pharmacy turnovers.

Alyson Johnson '12 posted a double-double with 16 points and a game-high 11 rebounds for the Panthers. Taylor Sullivan '15 added 10 points, and Alex Oaks '12 scored nine to go along with a game-high six steals. Kelsey Johnson '14 handed out a game-high five assists.

There were four ties and four lead changes through the first 12 minutes, 20 seconds. Howe hit a jumper with 5:13 remaining in the half to give Hamilton its largest lead to that point at 15-12. But Albany Pharmacy held the Continentals scoreless the rest of the half. A jumper by Johnson, followed by a layup and a free throw by Oakes gave the Panthers a 17-15 lead at the break. Hamilton shot 24.1 percent from the floor.

Albany Pharmacy (9-6 overall) enjoyed its largest lead of the game at 21-17 on a pair of free throws by Johnson with 18:12 to play. But Rachel Fredey '15 and Hunsinger hit back-to-back jumpers, and Goidell drained a 3-pointer to cap a quick 7-0 run that gave the Continentals the lead for good at 24-21 with 14:36 remaining.

Hamilton (8-10 overall) enjoyed its largest lead at 13 points on a traditional 3-point play by Howe that made it 41-28 with 5:45 left. Albany Pharmacy responded with a 7-0 run over the next 2:07 to cut the Continentals' lead to 41-35, but that was as close as the Panthers could get. Hamilton shot 45.5 percent from the floor in the final 20 minutes.

The Continentals made more free throws (17) than Albany Pharmacy attempted (14). Hamilton leads the all-time series 2-0.

Hamilton hosts Medaille College for a non-conference game on Monday, Jan. 30, at 7 p.m.