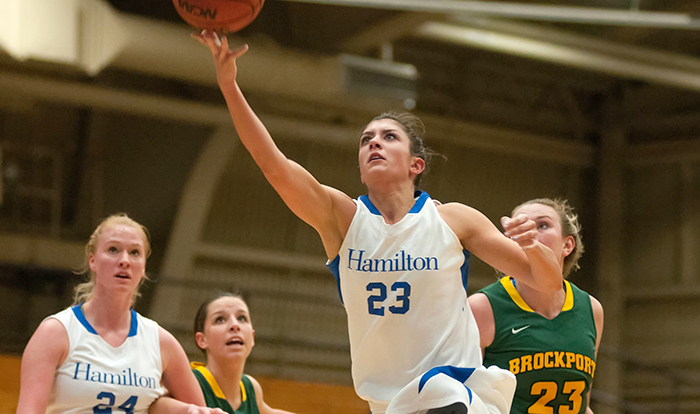 Hamilton College's Sam Graber '16 posted 20 points, 11 rebounds and five assists as the Continentals recorded a 60-50 NESCAC win against the Trinity College Bantams at Trinity's Oosting Gymnasium on Saturday afternoon.

Box Score

Graber has eight double-doubles in 14 games. She leads the NESCAC in scoring with 18.9 points per game and is ranked second with 10.1 rebounds per game. All of her 11 boards against the Bantams were on the defensive glass.

Theresa Salud '17 chipped in 12 points on the strength of three 3-pointers for the winners. Caroline Barrett '17 added nine points, Adrianna Pulford '15 pulled down a career-high 12 rebounds and Samantha Srinivasan '18 had a season-best eight off the bench. Hamilton held a 46-41 rebounding advantage as Pulford corralled seven offensive boards.

Melanie Mills finished with 10 points and 10 rebounds off the bench for Trinity. Mackenzie Griffin paced the Bantams with 13 points before she fouled out. Trinity shot 30.3 percent, including 2 of 17 from beyond the arc, and 50 percent (8-for-16) at the free-throw line.

The Continentals (1-1 NESCAC, 9-5) never trailed and there was one tie at 2-2. Hamilton jumped out to a 16-5 lead with 11:45 left in the first half. Graber sandwiched two layups around a jumper by Griffin, Salud nailed a 3-pointer and Griffin made another basket.

Lauren Getman '18 made it 9-4 with a basket in the paint and Griffin went 1-for-2 at the line for the Bantams. Srinivasan drilled a shot from long range and Kate Bushell '17 and Pulford capped the spurt with baskets.

The Continentals ran out to their largest lead of the half at 29-12 after a 9-0 run. A 3-pointer by Barrett gave Hamilton the 17-point advantage with 3:19 remaining. The Continentals led 31-17 at the break. Trinity (0-2, 4-8) shot 20 percent from the floor during the opening 20 minutes.

Hamilton led by double digits for most of the second half. The Continentals' largest cushion of the game was 19 points at 46-27 and 48-29 midway through the second half.

The Bantams pulled within six points at 54-48 on a Griffin layup with 1:39 to go, but Hamilton was a perfect 6-for-6 at the charity stripe down the stretch, and the Continentals held on for the victory.

Hamilton hosts Colby College for another NESCAC game on Friday, Jan. 16, at 7 p.m.