Women's basketball player honored by D3hoops.com
---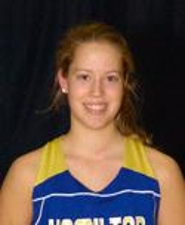 Hamilton College's Madie Harlem '13 (Oneonta, N.Y./Oneonta HS) has been selected the 2010 Division III East region women's basketball rookie of the year by D3hoops.com.
Harlem was a unanimous choice for 2010 Liberty League rookie of the year and was voted to the all-league second team in February. She was named the league's rookie of the week four times.
Harlem -- a 5-foot, 7-inch guard -- ranked 11th in the league with 11.4 points per game and 12th with 5.8 rebounds per game. She was third with a 3-point field goal percentage of 37.1 percent, fourth with 2.24 steals per game, sixth with 1.56 3-pointers made per game and eighth with 2.52 assists per game.
Hamilton (15-10 overall, 8-6 Liberty) finished fourth in the league standings. The Continentals earned a spot in the league tournament for the second time in three seasons. Hamilton lost to No. 1 seed Skidmore College in the semifinals on Feb. 26.