Women's basketball player honored by NESCAC
---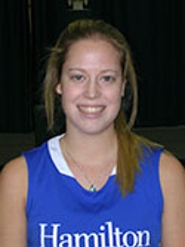 Hamilton College guard Madie Harlem '13 (Oneonta, N.Y./Oneonta HS) was selected the NESCAC women's basketball player of the week on Dec. 3.

Harlem averaged 18.7 points, 5.3 rebounds, 4 steals and 3.3 assists in three wins last week. She shot 53.2 percent (25-47) from the floor and made six 3-pointers. Harlem posted a season-high 22 points in a 62-49 non-conference victory at Utica College on Dec. 1.

Harlem ranks sixth in the conference with 12.7 points per game and ninth with 6.2 rebounds per game. Her 3.3 assists per game is good for third in the conference, while her 2.3 steals per game ranks fifth. Harlem is the program's first NESCAC women's basketball player of the week. Hamilton competed in the Liberty League for basketball from 1995 to 2011.

The Continentals (3-3 overall) host Alfred University for a non-conference game on Saturday, Dec. 8.