Women's basketball players honored by Liberty League
---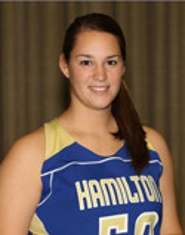 Two Hamilton College women's basketball players were honored by the Liberty League on Feb. 26 when the organization announced its end-of-season award winners and all-star teams.
Sydney Fasulo '09 (Lancaster, Pa./Lancaster Country Day School) was voted to the all-league Second Team by the league's head coaches. The 6-foot-1 center was also on the second team last year and was a first team selection in 2007. Sarah Schrader '09 (Rangeley, Maine/Rangeley Lakes HS) received honorable mention status.
Fasulo was ranked seventh in the league in scoring with 13.9 points per game, fifth in rebounding with 7.2 per game, third in field goal percentage (.508) and fifth in blocked shots with 0.71 per game. She finished her career tied for third on the team's scoring list with 1,316 points and alone in fifth place with 693 rebounds.
Schrader was ranked 22nd in the league in scoring with 9.2 points per game, seventh in assists with 2.92 per game, fifth in free throw percentage (.795) and tied for fifth in steals with 2.08 per game. The 5-foot-8 guard ended up fourth on the team's career steals list with 181. She also was credited with 202 assists.
Hamilton's season is complete. The Continentals (14-10 overall) tied for fifth in the league standings with a record of 7-7.