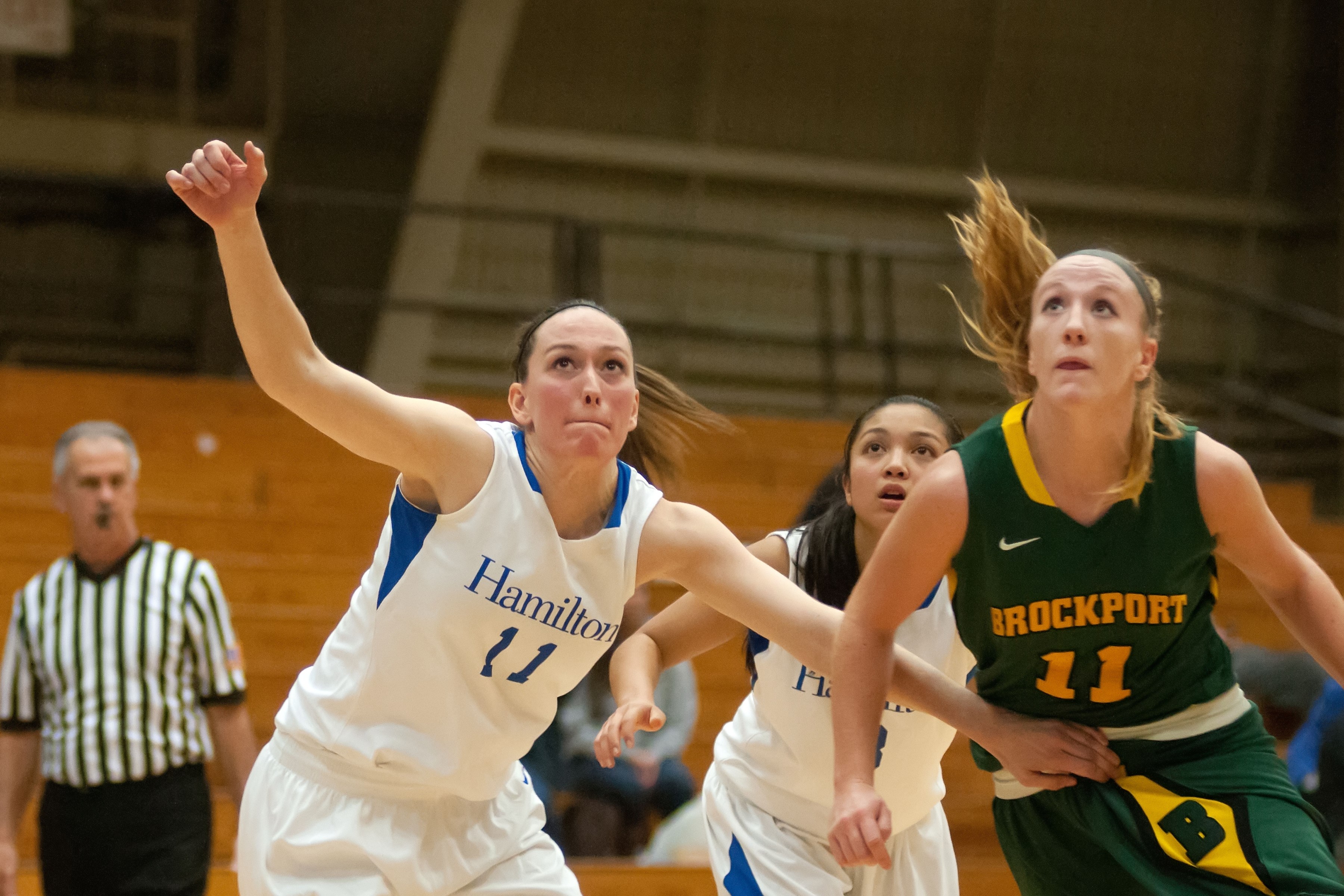 Hamilton College's Samantha Srinivasan '18 poured in all of her season-high 20 points in the second half and the Continentals routed the Alfred University Saxons 83-50 in a non-conference game at Hamilton's Margaret Bundy Scott Field House on Dec. 5.

Box Score

The Continentals (6-3 overall) won their fourth straight game this season and recorded their third victory in a row against Alfred. Hamilton made 6 of 8 shots from 3-point range in the second half and went 15-for-18 at the free-throw line in the final 20 minutes.

Srinivasan made all five of her shots, including both from beyond the arc, and was a perfect 8-for-8 at the line in the second half. She also grabbed eight rebounds and was credited with three steals off the bench. The Continentals finished with nine steals, which helped lead to 22 turnovers by the Saxons.

Serena Ward '16 chipped in 12 points off the bench and reserve Rylie Mainville '18 added eight points and a season-high 10 boards for Hamilton. The Continentals received 47 points from their bench.

Adrianna Pulford '15 dropped in a career-best 10 points and Caroline Barrett '17 scored nine on three 3-pointers for Hamilton. Theresa Salud '17 handed out four assists. The Continentals owned a 42-32 advantage on the glass and committed just 11 turnovers.

Amanda Off '17 paced Alfred (2-5) with 19 points and Harley Cleary '15 added 15. Emilea Harrison '15 grabbed seven rebounds and passed out four assists. The Saxons shot just 25 percent from the floor in the second half as they were outscored 47-25.

Alfred took their last lead of the night at 11-10 after a three-point play by Off midway through the first half. Hamilton scored the next nine points and led the rest of the way. Ward made back-to-back jumpers, Pulford drove in for a layup and Ward ended the run with a 3-pointer with 9:12 left in the half.

The Saxons pulled back within two at 19-17 on back-to-back 3-pointers by Harrison and Sarah Kichman '16 but didn't get any closer. The Continentals took their first double-digit lead at 34-23 on a Salud layup with 1:24 remaining. Off responded with a basket from in close but Mainville restored the 11-point advantage with another layup and Hamilton held a 36-25 cushion at the break.

The Continentals led by double-digits for the final 17 minutes. Srinivasan's layup with 39 seconds to go gave Hamilton's its largest advantage of the night at 34 points, 83-49.

The Continentals host Buffalo State College for another non-conference game on Friday, Dec. 12. Alfred travels to Mount Saint Mary College on Saturday, Dec. 6.