Women's basketball pulls off win at Utica
---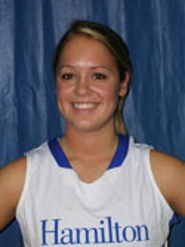 Eliza Howe '13 scored 16 of her 18 points in the second half to lead Hamilton College to a 58-50 win against Utica College in a non-league game at Utica's Clark Athletic Center on Nov. 30.

The score was tied 28-28 at the break, but Hamilton shot 50 percent from the field and went 12-for-16 at the free-throw line as the Continentals outscored the Pioneers 30-22 in the final 20 minutes. Utica shot just 28 percent from the floor and 36.4 percent at the line in the second half.

Madie Harlem '13 chipped in 11 points, a career-high 13 rebounds and a game-high seven assists for Hamilton. Harlem added three steals and two blocked shots. Claire Hunsinger '13 posted the first double-double of her collegiate career with 10 points and 11 boards, and added two blocked shots.

Hamilton is 5-0 for the first time since 2006-07, when the Continentals finished the season with a 20-8 record and advanced to the NCAA championship second round. Utica dropped to 3-2 with the home loss.

Hamilton is off until Thursday, Dec. 9, when the Continentals travel to SUNY Oneonta for another non-league game.