Women's basketball rallies to win Liberty League opener
---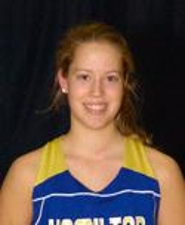 Madie Harlem '13 scored a game-high 16 points and rallied Hamilton College to a 50-48 win against visiting William Smith College in a Liberty League game at Margaret Bundy Scott Field House on Jan. 9.

Reisa Asimovic '11 chipped in 11 points, seven rebounds and three assists for Hamilton (7-2 overall, 1-0 Liberty). Alex Sowinski '10 added 11 points and three assists, and Eliza Howe '13 dropped in eight points. The Continentals went 11-for-12 at the free-throw line.

Howe snapped a 42-42 tie with a 3-pointer with 4:20 left in the second half. The Herons pulled within one point on a layup with 4:03 remaining. Harlem restored Hamilton's four-point cushion with another 3-pointer with 2:54 left. William Smith nailed a jumper to cut its deficit to 48-46 on the next possession. The Continentals went up by four points again on a Harlem layup with 1:36 remaining, but the Herons made it a one-possession game on their own layup with 56 seconds left.

After Harlem missed a jumper, the Herons had one more chance to win or send the game to overtime, but they missed two shots in the final five seconds. The score was tied six times in the second half. Hamilton led 25-21 at the break, but William Smith opened the second half with an 8-0 run, and the Continentals never regained the lead until midway through the half.

Neither team shot well from the field as the Herons finished at 33 percent and Hamilton ended up at 31 percent. The Herons owned a 46-36 advantage on the boards. William Smith was just 4-for-13 (30.8 percent) at the line.

The Continentals host nationally ranked No. 4 Bowdoin College for a non-league game on Tuesday, Jan. 12.