Women's basketball rallies for road win
---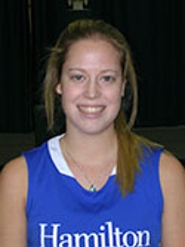 Hamilton College's Madie Harlem '13 poured in a game-high 25 points and the Continentals posted a 68-58 come-from-behind victory against Medaille College in a non-conference game at Medaille's Sullivan Center on Jan. 22.

Hamilton (9-9 overall) trailed 36-28 at the break, but opened the second half with a 15-0 run and led the rest of the night. Medaille's win streak ended at six games.

Harlem was 4 of 8 from 3-point range and handed out three assists in 40 minutes. She moved into fourth place on the program's all-time list with 233 career assists.

Eliza Howe '13 was 9 of 15 from the floor and finished with 21 points for the Continentals. It was the second time this season that both Harlem and Howe scored 20 or more points in a game.

Samantha Graber '16 grabbed a season-high 13 rebounds for Hamilton. Adrianna Pulford '15 pulled down eight boards, including seven on the offensive glass, in her first start this season. Kim Goidell '13 and Dani Feigin '14, who have combined for 32 starts in 2012-13, didn't play.

Joelle Pollak dropped in 19 points for the Mavericks (11-6). Pollak, who is 11th in Division III in 3-point field goals made per game, was 3 of 8 from long range. Brittnee Perry chipped in 13 points and nine rebounds, Brittney Rowland added nine points and Morgan Howe ended up with nine boards.

Neither team led by more than five points in the first half until the final minute of the period. The Continentals trailed 27-26 after Eliza Howe made a jumper with 3:38 left. Medaille ended the half with a 9-2 run on four points from Perry, a 3-pointer by Pollak and a Rowland layup.

Hamilton took over with 15 unanswered points out of the break. Pulford started the spurt with an offensive rebound and putback. Howe followed with a jumper and Harlem nailed a 3-pointer. Two free throws by Graber put the Continentals on top to stay, 37-36.

Olivia Pimm '14 went 2-for-2 at the line, Graber made a layup and Pimm ended the run with another basket from the paint. Hamilton led 43-36 with 12:10 remaining. Pollack's basket from beyond the arc finally ended the Mavericks' scoring drought with 11:47 left.

Medaille closed to within two points on three occasions, but never tied the score. The Mavericks still trailed by just four at 56-52 after Alicia Montalvo made a layup with 5:54 remaining. But Medaille was 1 of 5 from the floor and committed four turnovers in the last 5 minutes, 30 seconds. When Harlem drove in for a layup with 1:14 to go, the Continentals had their largest lead of the night at 12 points, 68-56.

Hamilton shot 48 percent and went 13-for-15 at the free-throw line in the second half. The Continentals held a 36-35 edge in rebounds and committed just 10 turnovers. Hamilton is eighth in Division III with 13.8 turnovers per game.

The Mavericks were just 6 of 21 from the field in the final 20 minutes as they were outscored, 40-22. Medaille entered the evening ranked seventh in Division III in 3-point field goal percentage at 37.1 percent, but the Mavericks shot 31.3 percent (5-16) against the Continentals.

Hamilton travels to Albany College of Pharmacy for another non-conference game on Tuesday, Jan. 29.