Women's basketball rallies for win over Utica
---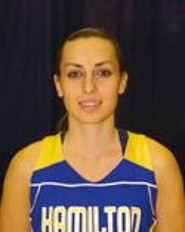 Lisa Olszewski '11 scored 16 points and Reisa Asimovic '11 added 14 to go with seven assists as Hamilton College rallied for a 62-58 win against Utica College in a non-league game at Margaret Bundy Scott Field House on Nov. 30.

Olszewski was a perfect 8-for-8 from the field and blocked three shots before she fouled out with 4:13 left in the second half. Alex Sowinski '10 went 3-for-6 from three-point range and finished with 11 points. Madie Harlem '13 chipped in seven points, a team-high nine rebounds and six assists.

Hamilton (3-1 overall) has won the last four meetings with Utica, and now leads the all-time series, 22-10. The Continentals ended the game on a 7-0 run to turn a three-point deficit into a four-point victory. The Pioneers (3-1) assumed a 58-55 lead on a layup with 3:26 remaining. Cate Schafer '10 tied the score on a three-point play with 2:16 left.

On the next possession, a Utica turnover started a fast break for the Continentals, and Asimovic finished with a layup for a 60-58 advantage with 1:49 remaining. It was the first lead in the second half for Hamilton, which trailed by as many as nine points early in the half. The Pioneers missed their next two shots and then turned the ball over with 20 seconds left. Asimovic drained two free throws with 12.2 seconds left to seal the win.

The Continentals jumped out to a 6-0 lead early, but Utica roared back with seven straight points. The score was very close throughout most of the first half. Hamilton held a slim 30-29 advantage with 3:28 left before the break, but the Pioneers closed the half with a 9-0 run for a 38-30 lead.

The Continentals shot 52 percent from the field and were credited with 20 assists on 26 made field goals. Utica shot 34 percent from the floor, including 23 percent in the second half. The Pioneers made just 7 of 20 free throws in the final 20 minutes. Utica held a 40-31 advantage in rebounds on the strength of 22 offensive boards.

Hamilton travels to Salisbury University for another non-league game on Friday, Dec. 4, at 6 p.m. The game is part of Salisbury's Optimist Classic tournament.