Women's basketball rallies to defeat St. Lawrence
---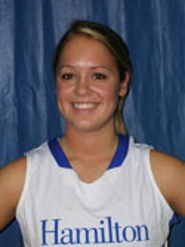 Eliza Howe '13 gave Hamilton College a one-point lead after a jumper with 58 seconds left and the Continentals held on for a 56-53 win against St. Lawrence University in a Liberty League game at Hamilton's Margaret Bundy Scott Field House on Jan. 29.

Hamilton (6-8 overall, 1-6 Liberty) snapped an eight-game losing streak. The Saints (13-4, 4-3) had a four-game win streak come to an end.

Howe led the Continentals with 17 points and eight rebounds. Blue Sanders '13 chipped in eight points and a career-high eight assists. Lisa Olszewski '11 finished with 10 points and a team-high 10 rebounds for her first double-double at Hamilton. Kim Goidell '13 recorded nine points, and Madie Harlem '14 handed out four assists and added six points.

Kelly Legg '14 paced the Saints with a team-high 16 points and a game-high 12 rebounds. Katherine Edgerton '12 dropped in 10 points with two 3-pointers. Hannah Wilson '14 and Iris Santoni '12 both handed out four assists. Erica Spera '13 posted eight rebounds and added seven points.

With 4:50 left in the second half, Dani Feigin '14 tied the game at 50-50. The Saints took the lead by two with 3:32 left on a jumper by Santoni, but Harlem made a layup to tie the score again.

The Saints turned the ball over with 2:03 to go as Sanders made a great play to steal the ball. Legg blocked a jumper by Isabel Pagliaccio '14, and a foul by Olszewski gave St. Lawrence two free throws with 1:12 left. Legg made one of two to pull ahead 53-52. Olszewski got the rebound off the missed free throw and the Continentals responded with a jumper by Howe to take the lead.

The Continentals held St. Lawrence scoreless the rest of the way. Edgerton attempted a 3-pointer with 44 seconds left, but missed and Harlem picked up the rebound. A turnover by Hamilton gave the Saints another opportunity, but Santoni's jumper was blocked by Goidell with only four seconds left. Olszewski added to Hamilton's lead with two foul shots in the final three seconds.

The Saints dominated the first half, but Hamilton took control and led for most of the second. In the first half, Pagliaccio made a layup to give Hamilton their first lead at 17-15 midway through. The Saints quickly took the lead back for the rest of the half. The Saints were up 30-26 at the break.

Throughout the game there were 10 ties -- four in the first half and six in the second. Hamilton shot 52 percent from the field in the first half, and 46 percent in the second, compared to the Saints' 35 percent for the game. The Continentals owned a big 38-29 rebounding advantage.

Hamilton hosts Morrisville State College for a non-league game on Wednesday, Feb. 2.