Women's basketball rallies to remain undefeated
---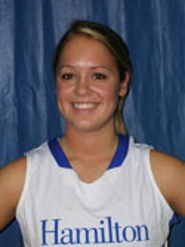 Eliza Howe '13 gave Hamilton College a one-point lead on a three-point play with 16 seconds left and the Continentals held on for a 60-59 win against Elmira College in a non-league game at Elmira's Speidel Gymnasium on Nov. 28.

Hamilton (4-0 overall) won for the second time in as many days. The Continentals blew out Wells College 69-27 at home on Saturday. Elmira (1-4), which led by 19 points with 14:30 left in the second half, lost its third straight game.

Howe finished with 15 points and seven rebounds. Blue Sanders '13 led the Continentals with 17 points and four steals. Madie Harlem '13 chipped in 12 points before she fouled out. Claire Hunsinger '13 recorded eight points, nine rebounds and three blocks. Hamilton blocked 10 shots as a team. Dani Feigin '14 handed out five assists.

Maria Thannhauser paced the Soaring Eagles with a game-high 20 points, and Becky Peterman dropped in 19. Becca Fretz posted a double-double with 10 points and 10 rebounds, and added three blocked shots.

It was a tale of two halves for Elmira, which shot 52 percent from the field in the first half, and just 31 percent in the second. The Continentals committed just nine turnovers and took 10 more shots than the Soaring Eagles.

With 4:11 left in the second half, Sanders hit a three to bring Hamilton to within three points. Elmira went back up by six with 2:13 to play, but Sanders made a layup and two free throws with just over a minute left. The Continentals held Elmira scoreless in the final two minutes.

Hamilton turned the ball over with less than a minute to go as Peterman made a great play to steal the ball. With time trickling down, the Continentals were forced to foul Peterman and send her to the line with 26 seconds left. Peterman stepped up to the charity stripe for a one-and-one opportunity, but missed the first and Hamilton grabbed the rebound.

Howe's three-point play gave Hamilton it's first lead since 17-16 midway through the first half. Fretz missed a layup with six seconds left and fouled a Hamilton player with two ticks remaining. The Continentals missed the free throw -- they were 7 of 14 for the day -- and Elmira grabbed the rebound, but didn't get a shot off as time expired. The Soaring Eagles led 37-23 at the break.

Hamilton travels to Utica College for another non-league game on Tuesday, Nov. 30.