Women's basketball remains in postseason hunt
---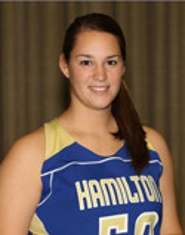 Sydney Fasulo '09 poured in 22 points and dished out a career-high seven assists to lead Hamilton College to a 64-44 Liberty League win against visiting William Smith College at Scott Field House on Feb. 17.
Hamilton (14-8 overall, 7-5 Liberty) has won five of its last six games. William Smith (13-10, 7-5) won the first meeting between the teams this season, 50-42, on Jan. 10. The teams are tied for fourth place in the league standings with two games left in the regular season. Just four teams make the league tournament.
Fasulo shot 8-for-9 from the floor and made all six of her free throw attempts. She also chased down five rebounds. Sarah Schrader '09 contributed a solid 11 points, six rebounds, two assists and two steals. The Continentals were credited with a season-high 20 assists on their 26 field goals and shot a season-best 54 percent from the floor.
The hosts led by just one point at 23-22 with 2:22 remaining in the first half. Fasulo set up Madelyn McGuinnis '09 for a layup and then drained back-to-back baskets for a 29-23 halftime advantage. McGuinnis finished with eight points, five assists and five rebounds.
Hamilton held William Smith to just six points in the opening eight minutes of the second half and slowly pulled away from the Herons. A three-pointer by Molly Kane '09 with 12:11 left gave the Continentals a 43-29 lead. The 14-6 run that opened the second half featured four points apiece by Fasulo and Schrader. Hamilton held a double-digit lead the rest of the way.
Kane finished with seven points, four rebounds and two steals. Alex Sowinski '10 contributed seven points, four rebounds and three assists.
Hamilton held the Herons to just 26 percent accuracy from the floor in the second half, and 30 percent for the game. William Smith was 0-for-8 from three-point range during the final 20 minutes.
Hamilton travels to Skidmore College on Friday, Feb. 20, for another league contest.