Women's basketball routs Wells
---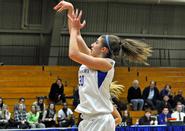 Hamilton College's Carly Gruenberg '16 recorded season highs of 11 points and eight rebounds off the bench, and the Continentals dominated Wells College 79-35 in a non-conference game at Hamilton's Margaret Bundy Scott Field House on Jan. 9.

The Continentals (6-6 overall) have won all four meetings with the Express. The 44-point win is the largest margin of victory for Hamilton since a 93-48 triumph over Cazenovia College on Nov. 18, 2008.

Madie Harlem '13 poured in a game-high 15 points in just 15 minutes. Harlem dished out two assists, which moved her into fifth place on the program's all-time list with 216 in her career.

Eliza Howe '13 dropped in 14 points in 15 minutes. Serena Ward '16 added nine points off the bench and Kim Goidell '13 recorded a game-high four steals. Dani Feigin '14 was 2 of 3 from long range and finished with six points. Feigin ranks fifth in the NESCAC with an average of 2.1 made 3-pointers per game.

Holli Erkson '16 paced the Express (3-8) with 12 points and four assists. Jessilyn Artaho-Aki '15 scored 10 points and Lindsay Achzet '16 pulled down a team-high six boards. Ashley Roser '14, who leads Division III with 16.7 rebounds per game and averages 19.2 points per outing, did not make the trip.

After trading baskets to open the first half, Hamilton exploded for a 16-0 run and never looked back. Feigin and Harlem nailed 3-pointers to begin the spurt and Howe scored eight straight to give Hamilton an 18-3 lead.

Hamilton led 20-7 when the Continentals ran off 12 straight points for a 32-7 advantage with 7:01 to go in the half. Harlem converted a layup to begin the run, Ward followed with seven consecutive points and Gruenberg completed an old-fashioned 3-point play.

Artaho-Aki made a jumper and added a free throw to bring the Express to within 32-10. But Hamilton scored the final 15 points of the half, and led 47-10 at the break. The Continentals shot a blistering 57.1 percent (20-35) from the field, including 50 percent (5-10) from beyond the arc in the opening 20 minutes. Wells shot just 21.1 percent (4-19).

Hamilton outrebounded Wells 23-8, and the 10 offensive boards helped the Continentals to 14 second-chance points. Hamilton turned 15 turnovers into 25 points.

Hamilton led 57-20 with 14:41 left when the Continentals used a quick 8-2 run for a 65-22 advantage. A layup by Shea Patrick '16 gave Hamilton its largest lead of the night at 79-30 with 1:56 to go.

Hamilton shot 48.5 percent (33-68) for the game compared to 28.6 percent (12-42) for Wells. The Continentals controlled the glass, 42-23, and grabbed 17 offensive boards. The Express committed 28 turnovers, which led to 41 points for Hamilton. The Continentals, who are ranked sixth in Division III with 13.9 turnovers per game, committed just 12 miscues.

Hamilton resumes NESCAC play on Friday, Jan. 11, when the Continentals host undefeated and nationally ranked No. 5 Amherst College. Wells returns home to play Penn State-Harrisburg on Saturday, Jan. 12.