Women's basketball rally runs out of time at Colby
---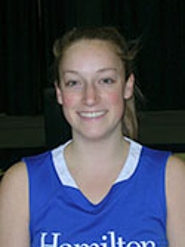 Colby College held off a furious Hamilton College rally in the second half and the Mules opened NESCAC play with a 44-41 win at Colby's Wadsworth Gymnasium on Jan. 6.

Carylanne Wolfington scored 11 points and grabbed a game-high nine rebounds for the home team. Diana Manduca added a team-high 12 points and Jacky McLaughlin chipped in 10.

Dani Feigin '14 led Hamilton with 12 points, four assists and two steals. Feigin knocked down all three of Hamilton's 3-pointers and is tied for fifth in the conference with 23 baskets from beyond the arc. Madie Harlem '13 and Eliza Howe '13 finished with 10 points apiece, and Harlem handed out four assists. Kim Goidell '13 collected a team-high eight boards.

Defense was on display at the start of the game as neither team got on the scoreboard for more than four minutes. Howe finally broke the ice with a jumper. Colby didn't manage a basket until there was 13:20 left. The score was tied 10-10 with 5:39 remaining, but the Mules finished the half on a 12-1 run for a 22-11 lead at the break.

Colby (6-6 overall, 1-0 NESCAC) scored the first four points of the second half and opened up a 26-11 advantage with 15:44 left. The Continentals continued to struggle from the field, and needed more than five minutes to score their first points of the half.

The Mules took their largest lead at 16 points (33-17) with 7:43 remaining. Hamilton answered with a 10-2 spurt to cut its deficit to 35-27 with 3:59 to play. But Colby knocked down four consecutive free throws, and went back up by double digits at 39-27 with 3:07 on the clock.

The Continentals (5-6, 0-2) continued to climb back on a 3-pointer by Feigin and baskets by Howe and Harlem to pull within 39-34 with 1:09 to go. Manduca converted two free throws for the Mules before Feigin drained another one from long range to get Hamilton within 41-37 with 43 seconds remaining.

Three more points from the charity stripe gave Colby a seven-point lead at 44-37 with just 13 seconds left. Samantha Graber '16 was fouled with 3.9 seconds left and hit both free throws for the Continentals. Colby immediately turned the ball over on the inbounds play and Goidell scored with one second remaining for the final margin.

Hamilton committed just seven turnovers to Colby's 18. Neither team shot well as Colby made 30.2 percent (13-43) from the field and Hamilton shot 27 percent (17-63). The Mules enjoyed a 43-35 advantage on the glass and made 14 free throws to the Continentals' four.

Hamilton takes a break from conference play as the Continentals return home to take on Wells College on Wednesday, Jan. 9.