Women's basketball smothers Utica in 60-44 win
---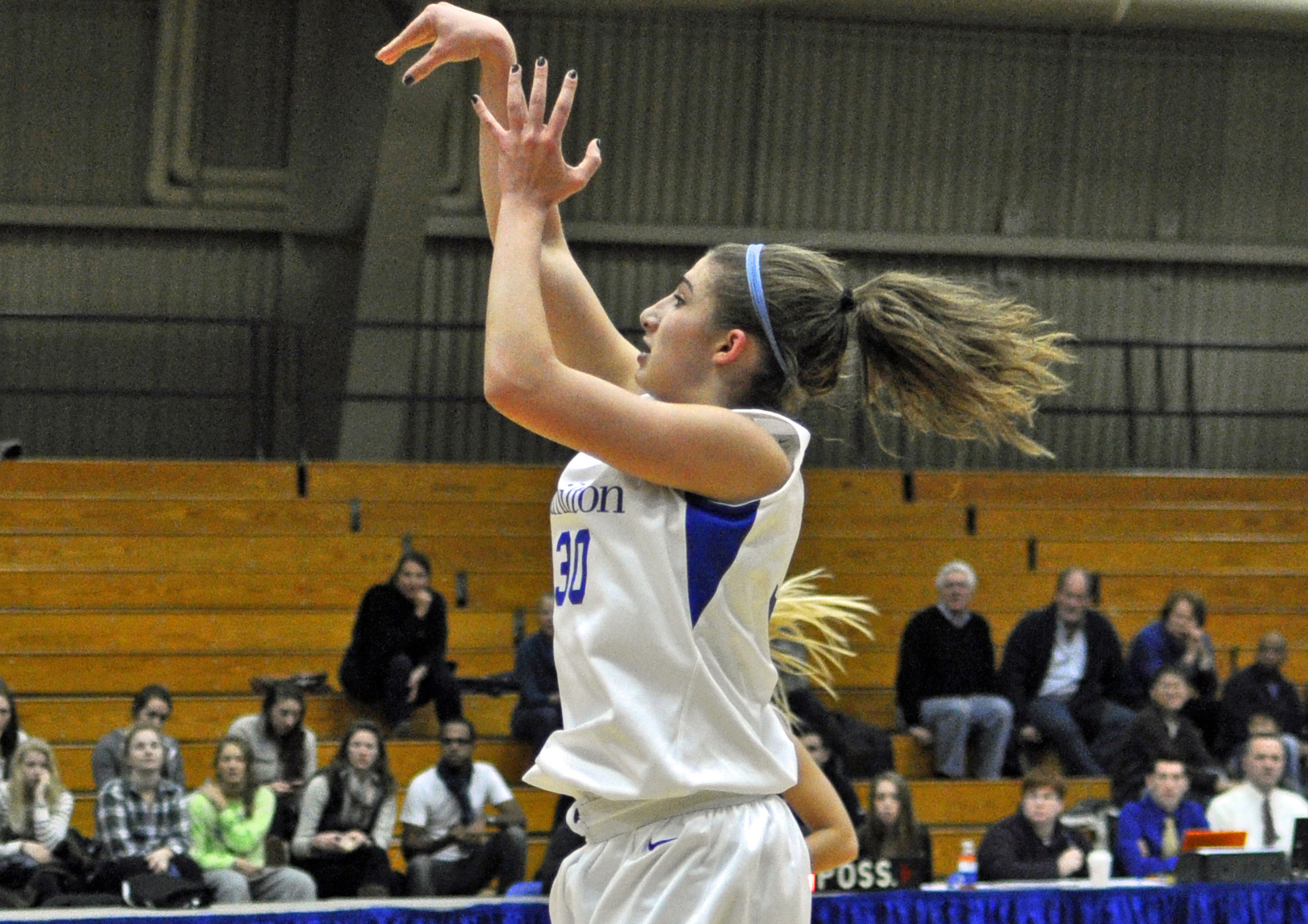 The Hamilton College Continentals (3-3 overall) held the Utica College Pioneers under 30 percent shooting in a 60-44 non-conference win at Hamilton's Margaret Bundy Scott Field House on Sunday afternoon.

Box score

The Continentals, who have won seven of their last eight over Utica, posted their best defensive effort since a 66-29 win over Morrisville State College last December. The Pioneers came into today with a two-game win streak.

Carly Gruenberg '16 made her first career start and led Hamilton with career-best totals of 16 points and five assists. Dani Feigin '14 scored 15 points, including 12 on four 3-point baskets, and contributed two assists and two steals. Serena Ward '16 scored nine points (all on 3-pointers) in just 17 minutes off the bench.

Olivia Pimm '14, who scored six points, led Hamilton with nine rebounds. Flo Turiaf '17 added eight boards, three assists and three steals.

The Continentals held Utica (2-3) to 10 points during the opening 12 minutes and hit their first five 3-point attempts for a 20-7 lead. Hamilton, which never trailed, led by nine points within the first 3:27 and took a double-digit lead just four minutes in on a 3-point basket by Ward. Utica pulled to within single digits just once the rest of the game, when a 3-point play by Christy Traglia '15 made the score 16-7 with 13:16 left in the half.

After limiting the Pioneers to 32 percent shooting from the floor in the first half (8-25), the Continentals did even better in the second, holding Utica to 27.6 percent accuracy (8-29). Hamilton kept Utica off the scoreboard for the first five minutes after halftime.

Utica's Bridget Greenwald '14, the nation's 18th-leading rebounder, led all players with 22 points and 11 rebounds. Kelsey Cowell '17 pulled down eight rebounds for the Pioneers, who owned a 44-36 advantage on the boards.

Hamilton held Pioneers' leading scorer Mary Miceli '16 to five points, which was 16 points below her season average, on 2 of 13 shooting from the floor. Miceli was held scoreless for the first 25 minutes.

The Continentals conclude their four-game home stand on Wednesday, Dec. 4, against Union College at 7 p.m. Utica plays at Massachusetts College of Liberal Arts on Tuesday at 6 p.m.