Women's basketball stopped by No. 24 Williams
---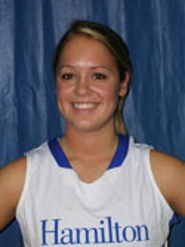 Grace Rehnquist scored a game-high 19 points off the bench to lead nationally ranked No. 24 Williams College to a 68-34 win against Hamilton College in a NESCAC game at Williams' Chandler Gymnasium on Jan. 22.

Kellie Macdonald drained four 3-pointers and finished with 14 points for the Ephs. Lisa Jaris grabbed six rebounds and Jill Greenberg handed out six assists.

Eliza Howe '13 paced Hamilton with 11 points, and Kim Goidell '13 chipped in 10. Adrianna Pulford '15 scored seven points and pulled down a team-high five boards -- all on the offensive glass -- off the bench.

The Continentals (7-10 overall, 1-5 NESCAC) shot 30.2 percent from the field, including 1-for-11 from 3-point range. Williams owned a 38-32 rebounding advantage.

The Ephs (16-2, 3-2) fell behind 4-2 early, but responded with an 8-0 run and led the rest of the afternoon. Macdonald kick-started the spurt with back-to-back 3-pointers, and Jaris ended it with a layup.

Williams' first double-digit lead was 18-8 on another Macdonald trey with 11:55 left, and the Continentals were forced to call their first timeout. Out of the timeout, the Ephs went into a full-court press that caused trouble for Hamilton. Cook made a layup to push the lead to 12. Pulford responded with a pretty jump shot. A couple possessions later, she swished a long three with the shot clock winding down to cut Williams' lead to 20-13 with 9:14 left.

Macdonald responded with another basket from behind the arc to start a 17-4 run to end the half. After nearly four minutes without a field goal for either team, Greenberg knocked down a three. She added a jumper off the glass before Rehnquist drained a long ball from the right baseline. After trading baskets, the Ephs pushed their lead to 22 off a nice jumper by Macdonald. Goidell just beat the clock with a nice pull-up at the halftime buzzer. The Ephs went into the locker room with a 37-17 lead.

Out of the break, the Ephs pushed their lead to 22 on a nice finish by Jaris. Olivia Pimm '14 had a pretty baseline drive for the Continentals. The Ephs were able to force a shot clock violation on Hamilton's next possession but were unable to convert on the offensive end. Goidell then drove down the middle and scored to cut the Continentals' deficit to 18. Williams' largest lead was the final 34-point margin.

Hamilton hosts Albany College of Pharmacy for a non-conference game on Thursday, Jan. 26.