Women's basketball taken down at Wesleyan
---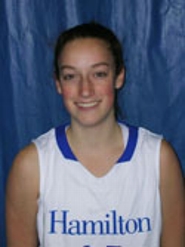 Wesleyan University shot 60.7 percent from the field in the second half and cruised to a 72-52 win against Hamilton College in a NESCAC game at Wesleyan's Silloway Gym on Feb. 5.

Emily Lippe led the Cardinals with 16 points, seven rebounds, six assists and three steals. Sam LaCroce scored a game-high 18 points and added seven boards. Eileen Gaffney chipped in 15 points and seven caroms. KellyAnn Rooney dropped in nine points and Jenna Klaes handed out seven assists.

Dani Feigin '14 came off the bench to pace Hamilton with 16 points. Feigin didn't play in Monday's loss to Medaille College due to injury. Eliza Howe '13 posted 13 points, six rebounds and three steals. Kim Goidell '13 dished out four assists. The Continentals shot 29.1 percent from the floor, including 4 of 19 from 3-point range.

Wesleyan (13-6 overall, 5-3 NESCAC) pushed out to a 40-28 lead with a 13-6 run in the opening 3 mnutes, 12 seconds of the second half. The Cardinals also opened the game with a 13-6 spurt.

Hamilton (8-13, 1-7) responded in both instances. Feigin narrowed the second-half deficit to 44-41 with 12:50 left on a basket. Wesleyan went on a decisive 10-0 run for a 54-41 lead with 8:28 remaining, and the difference was never under double digits the rest of the way. Four Cardinals contributed to the burst.

In the first half, the visitors rallied their way to a 19-16 edge with a 13-3 stretch, but Wesleyan scored the next 11 points for a 27-19 lead. The Cardinals settled for a 27-22 halftime advantage.

Wesleyan and the Continentals last met in November 2000 with Hamilton winning for the first time. The Cardinals won the other three games as the teams met each of the previous three seasons.

The Continentals host Tufts University for another NESCAC game on Friday, Feb. 10.