Women's Basketball Team Takes a Shot at Volunteering
---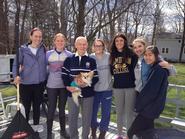 Members of Hamilton's women's basketball team took time on April 20 to participate in Oneida County's 5th annual Intergenerational Clean-up. The women volunteered at Helen Ferro's home in Utica and Robert Ferguson's home in Clinton. At both sites the basketball players raked leaves and cleaned the property.
Team members who volunteered were Serena Ward '16, Charlotte Beers '16, Dani Feigin '14, Sam Graber '16, Carly Gruenberg '16, Corrine Hom '16 and Adrianna Pulford '15.
Feigin remarked, "It was a very nice experience being able to help the elderly - we look forward to the chance to volunteer more in the fall."
The clean-up is a collaboration between the Oneida County Youth Bureau, the Oneida County Office for the Aging and Continuing Care, Oneida County colleges, school districts and youth organizations.